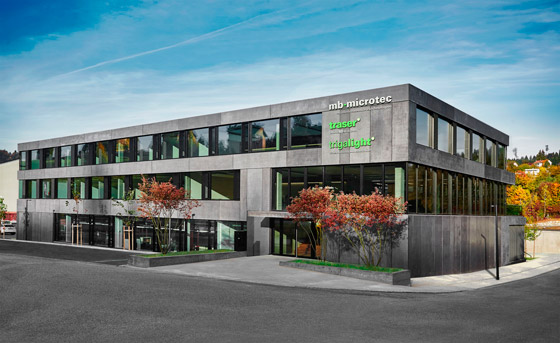 On October 25th, mb-microtec, the world leader in trigalight lighting technology, opened its new production building in Niederwangen (Bern).
Roger Siegenthaler and Marc Gerber, respectively CEO and Chairman of the Board, as well as guest of honour Adolf Ogi, former Federal Councillor, were present at the traditional ribbon cutting.

This building, representing a 23 million-franc investment, stands out not only for its exterior architecture but also for its particularly spectacular interior. It meets the highest requirements for protection against fires, earthquakes and break-ins, as well as providing an optimal working environment for the daily handling of tritium, a low-level radioactive gas. The latter is stored in tiny glass tubes coated with coloured zinc sulphate, which are notably used to illuminate aircraft cockpits as well as watch dials and hands.
November 29, 2018