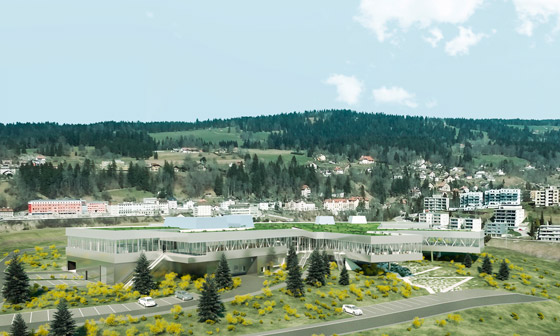 In bright sunshine on October 6th, Audemars Piguet laid the foundation stone of its new Manufacture located in the Saignoles district, on the heights of Le Locle.
The ceremony was attended by several members of the Board of Directors of the watchmaking company along with Philippe Liechti, Industrial Director of Audemars Piguet. The Swiss Kunik de Morsier firm of architects, who designed the future building, and Pierre Liechti, who is in charge of construction, also attended the event, as did the representatives of the regional authorities.

The "time capsule", the symbolic first stone laid, contained the first tourbillon created by Audemars Piguet and Renaud & Papi in 1994. Guests watched attentively as various documents were also placed inside this metal box, which found its place at the base of the building.

The new Manufacture will consist of a discreet one-storey building, seamlessly merging into the topography of the surrounding Saignoles hills. The site will be surrounded by a succession of spaces integrating the different biotopes characteristic of the local landscape. Freed from fossil fuels, this new building meets the requirements of the Swiss Minergie label.

The building has been designed to ensure interconnected workflows, while promoting creativity, flexibility and communication. Its layout will be partly modular in order to adapt it to the changing needs of employees and multidisciplinary teamwork methods. This choice anticipates the increasingly central role of project management at Audemars Piguet.

Moving away from the traditional form of industrial buildings, the Manufacture will also house at its centre a vast informal area devoted to the well-being and creativity of its employees, a place conducive to exchanges and relaxation. The site will also offer a unique experience to its visitors, since the entire building will be a symbolic showcase for the meticulous work and exceptional craftsmanship carried out within its walls.
November 29, 2018