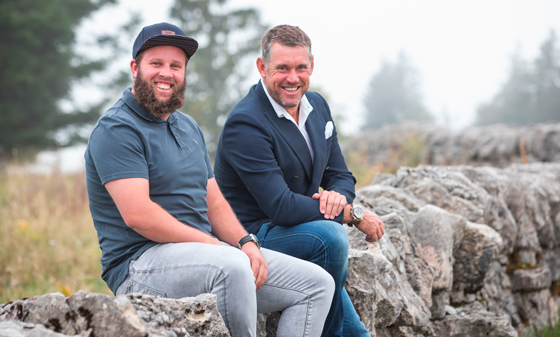 Andrew Johnston and Lee Westwood
Lee Westwood, Andrew "Beef" Johnston and Matt Wallace, three members of Audemars Piguet's Golf Dream Team, travelled to Le Brassus to visit the manufacturer's home in the Vallée de Joux.
After an exciting discovery of the museum and restauration workshop, the invited golfers tried their luck at assembling a watch movement.

After that, Audemars Piguet CEO and former golf professional François-Henry Bennahmias took the three ambassadors on a sightseeing helicopter trip to Caux, near Montreux, where they stopped for a dedicated visit of the Chalet Claude Nobs. This chalet houses the archives of the Montreux Jazz Festival, the first audiovisual library protected by the UNESCO. The archives contain more than 15,000 hours of audio-visual recordings encompassing almost half a century of the festival's history. Quincy Jones has described this unique collection as "the most important testimonial to the history of music, covering jazz, blues and rock." Audemars Piguet supports the Montreux Sounds and the Swiss Federal Institute of Technology in Lausanne (EPFL) in the development of the Montreux Jazz Digital Project, which seeks to digitise, restore, and preserve these sound archives.
November 08, 2018