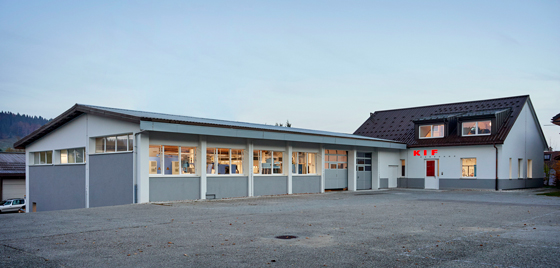 On October 18th, François Billig, President of the Acrotec group, inaugurated KIF Parechoc's new production site in Le Brassus.
The company currently has a total of approximately 6,300sqm – 4,500sqm on the Sentier site and 1,800sqm in Le Brassus – dedicated to the production of the main watch movement components.

This new investment will make it easier to respond to customer needs in 2019, the group's objective being to position itself among the main industrial players, with a very varied range of components dedicated to calibres.

Since the beginning of the year, KIF Parechoc has hired around twenty new employees and employs a total of some 165 people, including 35 at the new site. Investments for the takeover of the Le Brassus plant and its renovation amount to approximately CHF 5.5 million. In addition, in 2018, machinery investments reached 5 million. KIF Parechoc is an important watch industry subcontractor and one of the leaders in the sector, both in terms of the volume of parts produced and the diversity of the components offered.

And since good news often comes in pairs, KIF Parechoc has also just successfully passed ISO 9001 certification, which marks another important step in its development.

The Acrotec group, which has 700 employees supported by a machine fleet of more than 750 units, has a turnover of approximately 170 million francs. The group exports to 40 countries, 55% of its turnover being generated by watchmaking (movement components, packaging, machinery and tools, surface treatment and decoration) and 45% by electronics, the automotive, medical and aeronautics sectors.
November 08, 2018