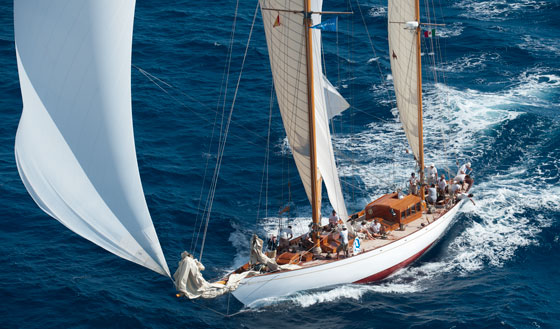 Human beings do things better than machines is the message sent out by Homo Faber - Crafting A More Human Future, an event created and curated by the Michelangelo Foundation for Creativity and Craftsmanship, to bring together Europe's most celebrated master craftspeople.
Staged at the Fondazione Giorgio Cini in Venice, Homo Faber, which took place from 14th to 30th September, offered visitors a fascinating and immersive journey, a celebration of European master craftsmanship designed to foster a cultural movement that will value and ensure the future survival of the principles instilled in said artisans.

Panerai's stunning 22-metre Bermudan ketch Eilean was, of course, the perfect choice for this exclusive setting. She was selected by the project's curators as an ambassador for the tradition of the master shipwrights who continue to keep alive the meticulous art of classic boat restoration, faithfully preserving the original forms, characteristics and materials of these beautiful craft.

Eilean herself underwent a complete restoration that took over three years to complete after she was discovered abandoned and in state of advanced disrepair on the island of Antigua in 2006. After being transported to Italy, she was handed over to the team of master shipwrights and artisans of Francesco Del Carlo boatyard in Tuscany. In their expert hands, this glorious seafaring gem was given a new lease of life over the following three years.

Eilean is a two-masted ketch designed and built in 1936 by the legendary Fife Shipyard of Scotland which is still renowned today for the astonishing quality and beauty of its artisan-built boats. Eilean's restoration is a clear demonstration of the respect in which the luxury sector continues to hold the artisan tradition as well as its commitment to supporting master craftspeople and ensuring their survival. An ethic shared by the twenty other European companies that showcased the rare techniques and extraordinary expertise behind their products in the Discovery and Rediscovery section of the Homo Faber event.
October 11, 2018