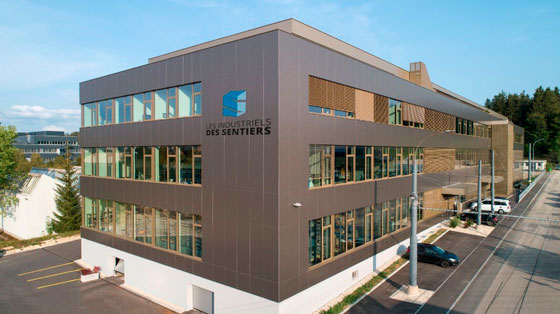 September 27th saw the official inauguration of the Industriels des Sentiers site in La Chaux-de-Fonds. This new production facility, of which the first stone was laid in May 2016, was able to welcome partner companies as of early 2018.
The opening day schedule included tours of the building presenting the residents' various activities, and an official ceremony at the end of the afternoon attended by regional authorities and key watch industry stakeholders.

The brand-new site houses a large number of companies operating in various fields of the industry. It has enabled some of them to regroup their activities previously spread across several locations, or in some cases to expand their production areas. Bergeon has for example brought together all its departments (administration, sales, production, etc.) under one roof, along with a showroom presenting a large proportion of its assortment. Valiance has installed its development department as well as the production of rubber watch straps. Other tenants include the dracogroup, an entity comprising five companies (3dPCI, Atec-Cyl, Akatech, BC Technlogies and ArtraM) active in several fields ranging from 3D printing and machining to the assembly of machines or complete workstations.

Since its construction, this grouping has enabled synergies between the participating companies and it also aims to be an asset in creating future joint endeavours. For example, Schneider Electricité SA, which is present on the site, carried out the entire electrical installation and network set-up for the plant, while ArtraM designed a number of the offices in the premises of the various partners.
October 11, 2018