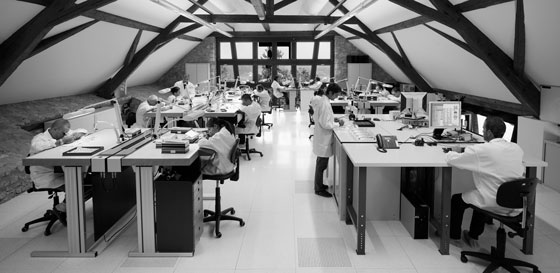 Bought up by Pascal Raffy in 2001, the brand has grown to the point of becoming a full-fledged watch Manufacture, driven as always by a concern for technical traditions, a token of fine craftsmanship and precision.
"Don't you notice anything? This tourbillon is very distinctive: first of all, it represents the Sun, with incredible mirror-polished rays; but most of all, the sprung balance and escapement are placed on either side of the cage." Pascal Raffy has a keen sense of detail. Because he knows how much effort went into each refined touch, pointing them out gives him a mischievous sense of pleasure. Witness the date, for example, which appears on both sides of the timepiece, driven by a micrometrical rack-and-pinion type retrograde mechanism. Or the hand engraving on certain bridges, that makes them look as if they are gemset. At the heart of the Château de Môtiers, where he has installed some of his workshops and his offices, the owner of the Maison Bovet never tires of evoking his latest "baby": the Récital 22 Grand Recital. Like the mechanics themselves, the narrative is precise, the concept perfectly well-oiled and the strategy entirely consistent. This Lebanese-born entrepreneur applies this quest for authenticity not only to watches, but also to the miniature industrial empire he has built up since 2001, to the point of achieving almost complete independence paired with impeccable quality.

Nine-day power reserve
This Grand Récital is certainly not short on details: a luminescent-painted hemisphere rotating in 24 hours; a small retrograde minutes display; a high-precision moon phase; a spherical differential ensuring swift rewinding; an asymmetrical case. One specific development particularly reflects the philosophy of the Maison: the power reserve. More than nine days are ensured by a single barrel – an example that is almost unique in the watch industry, and a feat stemming from the systematic choice of traditional and artisanal manufacturing methods.
Formerly active in the pharmaceutical industry, Pascal Raffy acquired Bovet in 2001. Despite having only four employees left at the time, the company had a famous history behind it: that of the Bovets of China. The entrepreneur could have rested on these laurels, confining himself to purchasing movements from third parties. But his ambition was far greater and year 2006 gave him a chance to prove it. He successively bought up the SST group in Tramelan – comprising STT (a movement manufacturer), SPIR-IT (balance-spring producer) and Aigat (dedicated to stamping) – followed by the dial-maker and gemsetting specialist Valor, Lopez & Villa in Plan-les-Ouates, as well as the Château de Môtiers. Within a few months, the employee roster thus soared from 43 to 148.
A mono-rattrapante chronograph in preparation
While renaming his production units "Dimier" and reorganising the work – "it took me
10 years to redo all the calibres" – Pascal Raffy was careful to preserve the competencies and skills: the balance-spring workshop of course, which also supplies a few external customers; as well as the one dedicated to stamping, which also produces the clamps, jumper-springs and wheel plates. Whereas others have replaced traditional methods by numerically controlled milling machines, he kept the workshops dedicated to gear hobbing – a more precise method than CNC – and pivot burnishing. While such details might appear insignificant, taken together they make it possible to create movements that consume very little energy and are capable of running for nine days with a single barrel.
Since 2006, no less than 19 calibres – including 12 reference movements – have been developed and produced in-house. Bovet has thus gone from 34% to 85% of proprietary movements in its collections, an evolution now accompanied by a determination go increase production capacities to 6,000 in due course. But the big challenge lies in elaborating new complications. The teams are working on a mono-rattrapante chronograph, a model that is slated for release in 2022, for the brand's 200th anniversary.
October 04, 2018