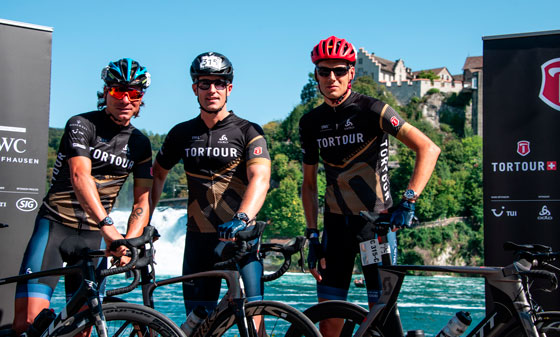 Simon Zahner, Christoph Grainger-Herr and Samuel Vuillemez
The tenth Tortour multi-day nonstop ultracycling event was held in mid-August. Representing the Laureus Foundation Switzerland, seven teams from IWC Schaffhausen were among the competitors.
Through a crowdfunding campaign, participants have so far raised a total of 60,000 Swiss francs for a social sports project run by the foundation.

You'd be forgiven for thinking that the name "Tortour" almost sounds like "torture", and for good reason: in the highest difficulty category of the race, 1,000 kilometres and a number of Swiss Alpine passes lie between the start and the finish in Schaffhausen. Participants are on the go day and night, meaning that their support teams also need to be available around the clock. "The Tortour unites competitive sport, extreme endurance and team spirit in a unique way, and for a good cause. I was thrilled to see so many members of the IWC family at the starting line ready to support Laureus, especially in the 150th anniversary year of our company", announced Christoph Grainger-Herr, CEO of IWC Schaffhausen. The team comprising Grainger-Herr, Swiss professional cyclist Simon Zahner and IWC watchmaker Samuel Vuillemez finished the "Challenge", the medium-length course of 550 kilometres, in 6th place.

Like the previous year, a prologue took place at the Rhine Falls. IWC has been a sponsor of the Tortour since it was first held in 2009.
September 13, 2018