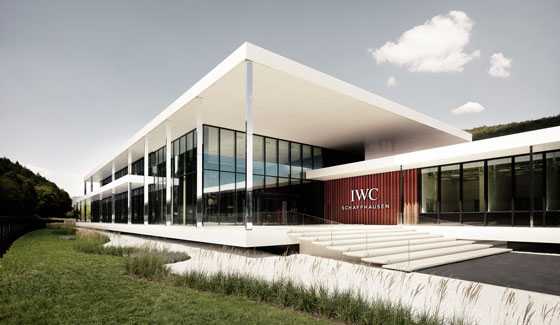 For its 150th anniversary, the Schaffhausen-based brand treated itself to a 13,500 sqm building, involving a 42 million of francs investment, the highest expenditure of the past ten years. Around 240 jobs have been transferred or created there.
"The building naturally had to offer optimal conditions for production and excellent working conditions. We also felt it was important to offer visitors a unique experience. We didn't just want a functional factory, but instead a building of high aesthetic value embodying the spirit of our brand." Christophe Grainger-Herr definitely knows what he is talking about in this respect, since the young German CEO who has been heading IWC Schaffhausen for a little over a year is also an interior design graduate from the University of Bournemouth, England. On August 27th, around 150 guests saw him inaugurate the brand's brand-new production plant. Located in the countryside on the outskirts of Schaffhausen and valued at 42 million Swiss francs, it is the biggest investment of these past ten years.
Cramped premises
In recent years, IWC has developed in leaps and bounds, to the point of reaching the limits of the capacity provided by its existing premises. After two structural extensions, further growth was impossible. Moreover, given the brand's decision to strategically develop its competencies in terms of in-house movement production, the construction of a new production facility was the obvious option.

It took just 21 months to build this "Manufakturzentrum", as it is officially called. The black-edged glass outer walls make a striking contrast with the overhanging white roof. As Grainger-Herr explains: "Back in 1868, our founder Florentine Ariosto Jones was already pairing traditional watchmaking with advanced production methods. Ever since, we have been systematically developing this approach." On this new production site, IWC brings together – under one roof and across a 13,500 sqm area – the production of around 1,500 different components, movement assembly as well as case production and assembly. Around 240 jobs have been transferred and created, out of a total capacity of 400.
A long-held dream
According to IWC's COO Andreas Voll, it's a long cherished dream that has now come true. "This new building has given us the opportunity to configure our production processes as is best for ensuring that they run optimally and produce perfect quality. So, for example, the entire process of creating value, from the raw material to the individual movement component and on to the finished Manufacture movement, progresses in a logical order on a single floor. I have been dreaming of this since I started at IWC back in 2007!" Some areas of the floor in question evoke the atmosphere of a high-tech factory: so as to avoid any dust contamination, assembly takes place in white room conditions similar to those required for computer chip production. Around 50,000 cubic metres of air are thus processed hourly.

While every single detail has been designed with employees in mind, neither are visitors neglected, as they are offered a real journey inside the Manufacture enabling them to discover the work of the watchmakers. Several educational workstations appearing along the signposted route, as well as a camera cleverly placed inside a testing machine, thus provide a chance to experience live almost the entire birth of a watch.
September 06, 2018