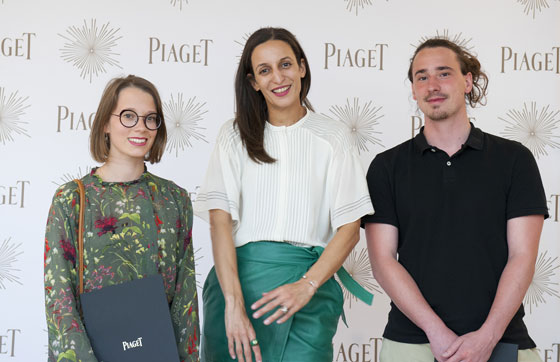 Dedicated to preserving traditional craftsmanship, Piaget also encourages the development of young talents by awarding a Design Prize and a Jewellery Prize to fourth-year Jewellery students in Western Switzerland's school of applied art and technical college.
For the past three years, the Maison has extended this distinction to include other schools in Western Switzerland, such as the Centre de formation professionnelle Arts de Genève (CFP Arts), the Ecole technique de la Vallée de Joux (ETVJ), the Ecole d'arts appliqués de La Chaux-de-Fonds (EAA) et the Association romande des métiers de la bijouterie (ASMEBI).
The Design Prize, honouring artistic and aesthetic jewellery exploration on the theme of the sun, was awarded to 25-year-old Félicien Riondel, a Swiss student at the Ecole d'arts appliqués de La Chaux-de-Fonds (EAA). The Jewellery Prize, awarded for the best jewellery creation based on an artistic design, was won by 25-year-old Julia Buttet, a young student from the Valais pursuing a dual training course in Geneva at the Centre de formation professionnelle Arts (CFP Arts).
The rigorous work and innovation illustrating the two laureates' degree of excellence won over the jury – composed of representatives of the watch brand and the schools – with a professional-quality final result.
Piaget is offering the winner of the Jewellery Prize the possibility of a three-month internship in its High Jewellery workshop as a complement to her professional and artistic training.
July 12, 2018