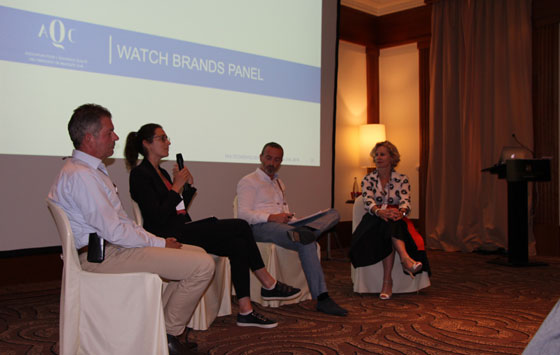 On June 21th, 2018, AQC – Association for the Quality Assurance of Leather Strap Manufacturers – founded in 2014 by Brasport, Camille Fournet, Hirsch, Interstrap and Multicuirs, organised in Neuchâtel, the first multi-stakeholder meeting of the leather strap industry.
About hundred people, from all over Europe and Asia, representing watch brands, strap manufacturers, tanners, laboratories and other suppliers discussed about the main theme "let's work together to create the future of the most sustainable leather strap."
Antonio Haulte, Executive Director of Global Compact Network Switzerland, introduced the "Sustainable Developments Goals" of the United Nations. Several experts then highlighted the latest advances in chemical compliance, traceability and animal welfare.
Two round tables, one composed of watch brands and one of suppliers, applauded the work already accomplished in recent years by AQC. They also stressed the need to continue this work together and with all players in the supply chain. The subjects of chemical conformity and traceability cannot be treated in isolation.
This meeting was also a reminder of the commitments of the AQC Label, which today guarantees the highest level of quality and safety of leather straps in the field of Haute Horlogerie.
July 12, 2018