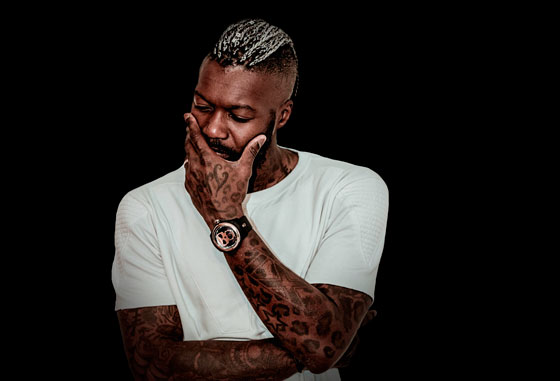 It happens more and more often: a friend of Corum who, from time to time, shares his favourites on Instagram. When that friend is Djibril Cissé and counts a total of nearly 800,000 followers on Instagram, the likes do not go unnoticed!
Djibril Cissé already had a Bubble, a personal piece that he regularly wears. Therefore, the Bubble 52 immediately became the starting point for creating his own model. The idea was to create a subtle nod to his outstanding career as a footballer – but that's not all. With several films to his name, a book, two solo albums, television appearances, a DJ career, his own clothing brand and many other collaborations, Djibril Cissé is a "serial entrepreneur", an all-round artist gifted with overflowing creativity.

"The Lion" wanted a daring watch. A skull, exclusively designed for him by Corum, can be found at the centre of his Bubble 52. Made out of gold and modelled on the artist's personal watch, the number "9" is visible on its jaw. It is the only reference to his past as a top athlete, the number on his striker jersey which he wore in all his matches.

The dial of this special timepiece has no hands – a deliberate choice to give the skull the fiercest possible traits, occupying almost the entire dial. Instead, Corum used an off-centre hour display called "Magical". It rests on a flange with a complete timer and two red circles sweeping over it. The biggest one indicates the hours and the other indicates the minutes.

The watch, which powered by an automatic calibre offering 65 hours of power reserve, will be released in a limited edition of 88 pieces.
June 29, 2018