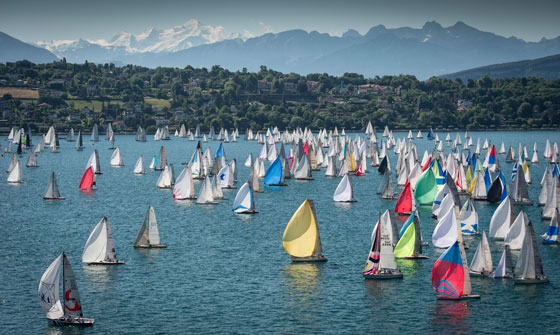 For the sixth year running, the watch company served as official timekeeper for the Bol d'Or Mirabaud.
The world's biggest inland lake regatta, this competition is raced from Geneva at one end of the lake to Le Bouveret and back. The 80th edition of this challenge, which was held from June 8th to 10th, was virtually bereft of wind and thus put participants' nerves to a stern test. Patience and tactics were the watchwords in a race that took place on an almost glassy lake.

In tribute to this 80th edition of the competition, the brand launched the Classic Fusion Chronograph Bol d'Or Mirabaud 2018, issued in an 80-piece limited and numbered edition. Ceramic, carbon fibre and rubber unite in proclaiming Hublot's Art of Fusion. The blue ceramic case sports the shade of Lake Geneva's deep waters; while carbon fibre – a favourite material among sailors – takes pride of place on the dial and strap.
June 21, 2018