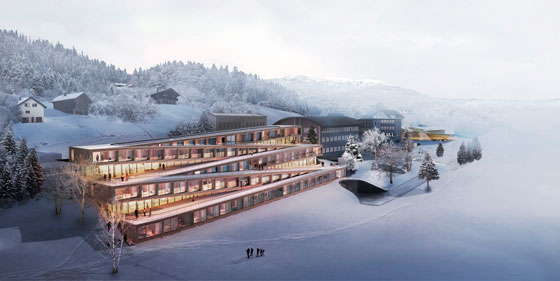 On June 4th 2018, the first stone of the new Hôtel des Horlogers was laid in Le Brassus, cradle of the Manufacture in the heart of the Vallée de Joux.
The ceremony was held in presence of Jasmine Audemars, Chairwoman of the Audemars Piguet Board of Directors, Olivier Audemars, Vice-Chairman of the Board of Directors and François-Henry Bennahmias, CEO of Audemars Piguet. The main partners of the project, Danish architects BIG, and Swiss architects CCHE as well as the authorities of the Vallée de Joux and of the Canton of Vaud also attended.

During the ceremony, Jasmine Audemars presented this unique project combining respect for the hotel's origins and openness to the world, transmission of the traditions of the Vallée and imaginative freedom. "This project is far from simple, but it is important, not only for Audemars Piguet but for the entire Vallée de Joux. The hotel is a way to attract a broader public to our stunning Vallée de Joux. It is not only vital for us to be able to cater to the needs of international travellers but also to those of our local neighbours".

The new Hôtel des Horlogers will unite history and modernity. It was imagined in order to fit in not only with the Vallée's environment, but also with the local culture and habits – warm and authentic materials, as well as a friendly atmosphere. Its design integrates the natural surroundings.

The hotel will offer 50 rooms with offering every modern convenience as well as views of the Risoux forest, two restaurants and a lounge bar, a wellness area, a fitness studio as well as three seminar rooms.
June 21, 2018