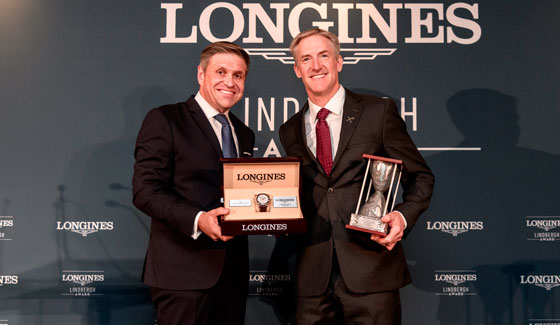 Juan-Carlos Capelli and Erik Lindbergh
With its proud, historic ties to the world of aviation, Longines has chosen to celebrate Charles Lindbergh's first solo, nonstop transatlantic flight, an event timed by the Swiss watchmaker in 1927, by creating the Longines Lindbergh Award.
Erik Lindbergh, grandson of the celebrated American pilot who performed the inaugural voyage on May 21st 1927, became the first recipient of this prize.

In May of 2002, during the 75th anniversary of the historic flight, a 53-year-old Erik Lindbergh followed in the wake of his illustrious grandfather and performed the same Atlantic crossing between Long Island, New York and Le Bourget, near Paris, aboard a small single-engine airplane. An artist and designer, Erik Lindbergh has been involved in a number of "crazy projects" in the field of space tourism and ecological airplanes. His story also tells of a struggle against adversity, having overcome severe health problems.

Longines chose to officially present the Longines Lindbergh Award at the headquarters of the New York Times, the newspaper that so passionately told of the exploits of Charles Lindbergh, during a special evening held on May 21st, on the anniversary of Charles Lindbergh's flight. During the event, which brought together representatives from the aviation sector, members of the media and the Lindbergh family, Longines Vice President and Head of International Marketing Juan-Carlos Capelli awarded Erik Lindbergh with the Lindbergh Hour Angle Watch, a timepiece designed by his grandfather and developed by the watchmaking brand shortly after the inaugural voyage. Following his 1927 crossing, the adventurer approached Longines to create a watch that could respond to his aviation needs. Thus, the Lindbergh Hour Angle Watch was born and became the true watchmaking icon it is today.

The Longines Lindbergh Award, which comes with 25,000 dollars in reference to the sum received by Charles Lindbergh on behalf of Raymond Orteig for becoming the first aviator to successfully cross the Atlantic, will be awarded each year to a person of Charles Lindbergh's pioneering character.
June 07, 2018