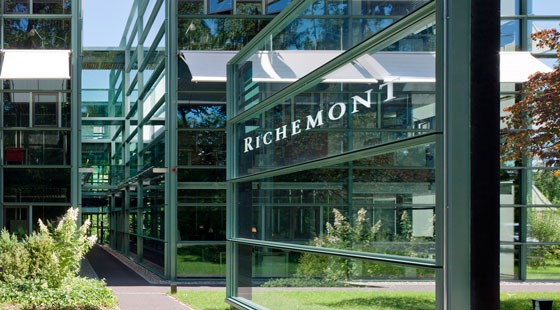 For its 2017/2018 financial year ending 31 March 2018, Richemont posted sales of EUR 10,979 million, up 3% at actual rates and 8% at constant rates. Operating profit grew 5%, to EUR 1,844 million.
An improved macroeconomic environment, steady progress on Richemont's transformation agenda and a mixed currency environment marked the year under review. Sales increased by 3% at actual exchange rates, driven by high single digit growth in retail and double digit growth in Asia Pacific, with particular strength in the main markets, namely China, Hong Kong, Korea and Macau. Strong overall retail performance reflected solid jewellery and watch sales.

At the Jewellery Maisons, jewellery continued to perform strongly, while watches benefited from easier comparatives and the successful relaunch of the "Panthère" line, introducing one of Cartier's most iconic creations to a new generation. The Specialist Watchmakers continued to focus on optimising their distribution network and adapting their structures accordingly. The approach to the grey market remains uncompromising. Over the period, the Group implemented further inventory buy-backs and strengthened the approach to managing sell-in versus sell-out at its multi-brand retail partners. The Maisons grouped under "Other" have focused on strengthening their leather and clothing offers, with first-time collections launched under new creative directors at both Chloé and Dunhill.

Richemont's voluntary tender offer for the world's leading online luxury retailer Yoox Net-A-Porter Group aims to accelerate the ability of Richemont to satisfy a sophisticated and globally dispersed clientele and demonstrates the commitment to developing a robust omnichannel proposition. Reflecting its view that travel retail spending will increase over time, the Group also invested in Dufry, a leading travel retail specialist listed on the SIX Swiss Exchange.

In view of the cash flow generated and the strong net cash position, the Board has proposed a dividend of 1.90 franc per 1 A share/10 B shares, up from 1.80 franc per 1 A share/10 B shares last year.
June 07, 2018