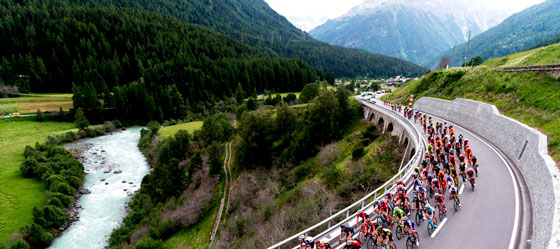 Cycling is one of the sports in which the watch brand is most strongly involved. Tissot has been engaged in various events relating to this sport for 50 years, notably serving as official timekeeper for the Tour de France between 1988 and 1992, and again since 2016.
Proud of its Swiss roots, the Maison reinforced its commitment by associating with the Union Cycliste internationale (UCI) in 1995.
Since then, Tissot is the official timekeeper of world cycling champions on road, track, mountain bike and BMX, as well as World Cup cycling track and mountain bike races. Serving as official partner of the Tour de Suisse was thus a natural next step.

François Thiébaud, President of Tissot, said: "Renewing the partnership between Tissot and the Tour de Suisse completes the company's commitment to cycling, given the existing relationship that we have with the Tour de Romandie and the Tour de France. As Tissot is a Swiss brand, it is natural that we are renewing this partnership which connects us to our roots."

Tissot is delighted to celebrate this partnership by launching a new watch which is a Special Edition: the T-Race Cycling Special Edition Tour de Suisse. Inspired by bicycle features, every part of the watch is a tribute, from the fork in the frame, reflected in the strap and lugs; the outside of the dial and the tachymeter bezel that represent the wheel, set on a carbon ring; all the way to brake levers integrated in the pushers and the cassette on the caseback and on the crown. The back of the strap is even reminiscent of a chain. If you're on the go, the time is quick and easy to read thanks to large hands and a clear, legible face.
May 08, 2018