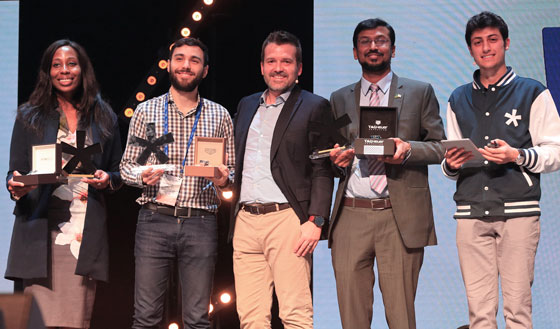 In mid-April, TAG Heuer participated in the Seedstars Summit and awarded three distinctions to various start-ups on the occasion of the prize-giving ceremony held in Lausanne.
For five years, Seedstars World has been organizing a competition to find the most promising start-ups in the developing world. After a year of competition, 70 start-ups from 50 countries were selected to take part in the Seedstars Summit - a creative emulation and networking platform. Over three days, in contact with mentors and investors, the fledgling entrepreneurs defended their projects.

Best Woman Entrepreneur prize was awarded to Medsaf, from Nigeria, for its medication platform that is connecting pharmacies and hospitals in Africa with safe and cost effective medications and for the way the female co-founders succeeded in an industry which can benefit so much from technology. The Innovation prize went to CMED from Bangladesh for the disruptive way they tackle lack of access to health management resources. And lastly, the Time Saviour Prize honoured Alquilando, from Argentina, for the way their product pays tribute to the importance of time in people's lives.

The day after the summit, the three winners had the opportunity to visit the Manufacture in La Chaux-de-Fonds. Their visit concluded with a journey through time while exploring the brand museum.
May 08, 2018