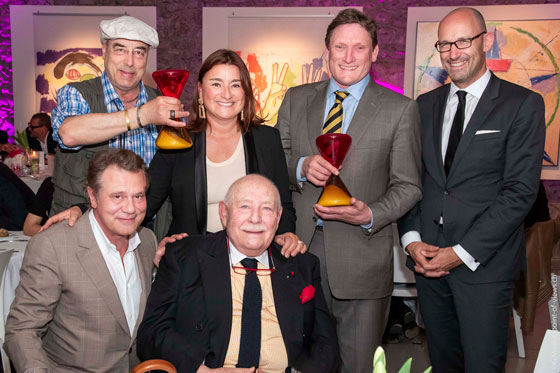 Created in 2013 by the Fondation de la Haute Horlogerie (FHH), the "Hommage au talent" and "Hommage à la passion" prizes were respectively awarded this year to Greubel Forsey and Franco Cologni. They are succeeding the 2017 laureates, François-Paul Journe and Ludwig Oeschlin.
To avoid any potential conflict of interest, the Chairman of the FHH Cultural Council, Franco Cologni, decided to pass on his award to Nicolas G. Hayek as a posthumous tribute. Organised with the support of the City of Geneva as part of the 2018 European Artistic Craft Days, this sixth edition was held on April 18th in Geneva's Cité du Temps.

Fine Watchmaking is built around forty or so professions, both technical and artistic. The FHH believes that these exceptional professionals deserve recognition – which is exactly why its Cultural Council composed of around 50 independent personalities annually hands out its "Hommage au Talent" and "Hommage à la Passion" awards.

This year, the jury thus decided to honour Franco Cologni. A man of strong convictions whose name is inextricably bound up with the extraordinary destiny of Cartier over the past 30 years, as well as with the Riche-mont group's deployment in the realm of Fine Watchmaking. Franco Cologni humbly chose to pass on his award to Nicolas G. Hayek. This posthumous tribute thus goes to the Swatch Group founder, another natural-born entrepreneur who was in his day was tasked by banks with finding a solution to the quartz crisis that had hit the Swiss watch industry. Nicolas G. Hayek shouldered it as a personal challenge and succeeded in safeguarding a set of industrial facilities that has now firmly established Switzerland's hegemony in the realm of high-quality watchmaking – as well as laying the foundations of what was to become the watch industry's number 1 stakeholder.

The "Hommage au talent" prize was awarded to two atypical watchmakers, Robert Greubel and Stephen Forsey. Since the start of their joint endeavors, with CompliTime created in 2001 and through the subsequent launch of their Greubel Forsey signature brand in 2004, they have tirelessly blazed new trails by creating original mechanisms: the Double Tourbillon 30°; a perpetual calendar with equation of time; ergonomic bidirectional fast adjustment via a mechanical computer; as well as a GMT model equipped with a 3D globe. The Maison has commanded respect through the technical nature of its timepieces, the resolutely contemporary architecture of its movements, as well as the almost obsessive care devoted to the finishing of each component. The result is an unmistakable Greubel Forsey style that has become an inescapable fixture in the contemporary watchmaking world.

Winners of multiple chronometry competition prizes, five Grand Prix d'Horlogerie de Genève prizes including two "Aiguille d'or" Grand Prix (Best in Show) awards, as well as the 2009 Gaïa Prize in the "Spirit of Enterprise" category, Robert Greubel and Stephen Forsey have created in parallel the Time Æon Foundation. Its action is part of an ambitious program that is more necessary than ever in perpetuating and passing on these unique skills, sparking vocations and supporting the training of future independent watchmakers.
May 03, 2018