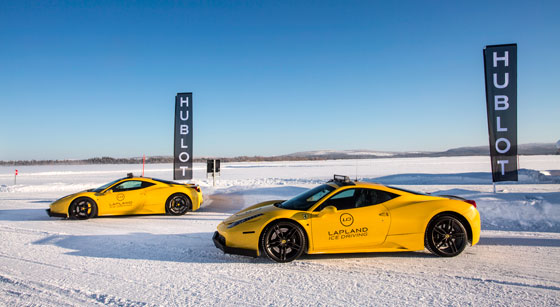 Lapland Ice Driving takes place a stone's throw from the Arctic Circle in a charming Swedish village, Arjeplog, with 2,000 inhabitants. A majestic frozen lake spreading over 1,200 hectares with temperatures ranging from -5 to -40 °C displays the sublime northern lights.
Eric Gallardo, automotive engineer, former test driver and race driver, decided to found Lapland Ice Driving in 2006. Every year, from January to March, the large lake completely freezes over, transforming into an immense ice driving training ground. Almost 50km of track is traced out here, including technical and speed circuits. Among these are full-scale exact reproductions of 4 Formula tracks: Yas Marina, Paul Ricard, Nürburgring and Silverstone.

Hublot announced a partnership with Lapland Ice Driving as official timekeeper for 3 seasons (2018-2020). Hublot will thus reinforce its presence in motor sport, established by its close and long-standing partnership with Ferrari. As part of the partnership, driving courses will be offered on site behind the wheel of a specially prepared Ferrari, which can reach an astonishing speed of 200 km/h on the ice! Driving will be arranged during exclusive trips that will also include snowmobile outings, excursions to the Arctic Circle, viewing of the Northern Lights and overnight accommodation in the village of Arjeplog.
April 12, 2018