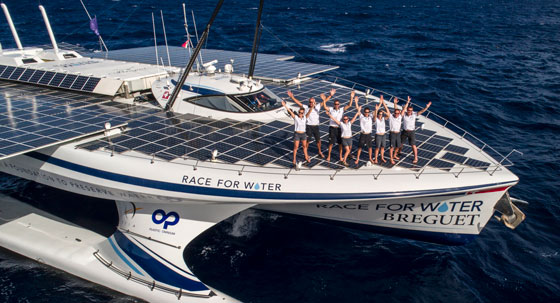 At a press conference held at Baselworld on March 24th, Marc A. Hayek, President of Breguet, announced a new partnership with the Race for Water foundation dedicated to safeguarding water. The watch company has thus embarked on an odyssey through to 2021.
Committed to preserving oceans from plastic pollution, the Race for Water foundation contributes to the advancement of scientific knowledge, raises awareness among the public and decision-makers, as well as taking concrete action through implementing local solutions intended to have sustainable economic, environmental and social impacts.

A revolutionary vessel is engaged in a round-the-world trip aimed at promoting innovative solutions capable of transforming plastic waste into energy resources and thereby accelerating the clean energy transition. During the 35 stages of the odyssey, Race for Water will invite scientists and decision-makers to engage in a dialogue on the necessity of preserving water, humankind's most precious resource.

The expedition will take place aboard a boat using clean and renewable solar and hydrogen energy for its propulsion, backed by a traction kite. Living proof that a 100-ton vessel can circle the globe without depending on fossil fuels.

The new Breguet travelling exhibition dedicated to the partnership and presented on the Swatch Group Plaza in Baselworld, will set off on a world tour aimed at raising public awareness. A special series of Race for Water timepieces will travel on the wrist of the explorers taking part in the odyssey.
April 12, 2018