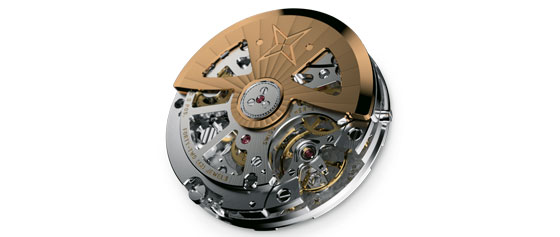 Specialising in the production of high-end mechanical movements on an industrial scale, Vaucher Manufacture Fleurier (VMF) adds a new calibre to its wide range of movements, unveiling a high-performance integrated column-wheel chronograph, the Seed VMF 6710.
A masterpiece of engineering and micromechanics, the 6710 calibre is the result of 6 years of development. It incorporates the best practices from existing chronographs and introduces several innovations for optimal efficiency, reliability, precision and robustness. Its design combines high frequency, a column-wheel command, a vertical clutch and a triple return-to-zero hammer.

The Seed VMF 6710 balance wheel beats with a frequency of 36,000 vibrations per hour (5 Hz) enabling it to offer chronometer-certified tenth of a second precision. The four adjustment blocks allow high-precision regulation. The full balance bridge with twin supports offers improved stability and shock resistance.

Although it operates at high frequency, the 6710 calibre can store up to 65 hours of power reserve. The rapid rotation barrel is wound automatically by a 22 carat gold central rotor mounted on ceramic ball bearings. The automatic mechanism is integrated within the movement height, resulting in a compact construction measuring just under 7 mm thick.

A stand-out due to its high-end construction, the 6710 calibre features a column wheel to command and coordinate the start and stop. The vertical-coupling clutch of the chronograph allows for an instantaneous start, eliminating the jump of the second hands often seen with a lateral clutch when the gears mesh. The clutch is off-centred and drives the chronograph seconds and minutes. To enhance efficiency, the chronograph hours are powered directly by the barrel. Representing a simple, efficient and reliable solution, a one-piece reset hammer slides across the mechanism to simultaneously reset the chronograph hours, minutes and seconds, contacting the respective heart cams.

Like all VMF movements, the Seed VMF 6710 chronograph is meticulously finished in the purest tradition of Haute Horlogerie. Its sophisticated design is heightened by materials of exceptional quality.

It is available in short series and can be personalised with different options. The list of additional functions includes manual winding, a large date and a split-seconds mechanism.
April 05, 2018