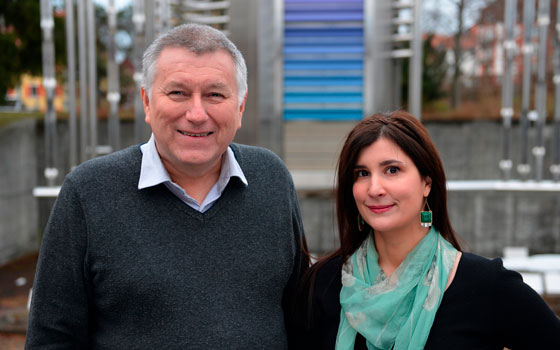 Jean-Michel Piguet and Nathalie Marielloni
On February 1st 2018, Nathalie Marielloni took up the position of assistant curator of the Musée international d'horlogerie (MIH). She is succeeding Jean-Michel Piguet, living memory of the institution and a shrewd connoisseur of its collections, after rubbing shoulders with them for 40 years.
Nathalie Marielloni, who lives in Les Brenets, is a 32-year-old expert in historical watchmaking and gemmology. Having studied art history and French at Neuchâtel University, followed by a Bachelor's Degree in the conservation and restoration of technical, scientific and horological objects at the Haute Ecole Arc, she further specialised in watchmaking with the WOSTEP in Neuchâtel. She earned the Graduate Gemologist Diploma (G.G.) from the Gemological Institute and is an Accredited Jewelry Professional (A.J.P.)

Her career has taken her to the Watch Museum of Le Locle and the Patek Philippe Museum (2009), and then to the Geneva Watchmaking Museum (2010), where she was responsible for collection conservation issues. From 2011 to 2015, she worked for Sotheby's as a Watch Specialist, first in London and then in Geneva, helping to organise exhibitions, perform evaluations and undertake research, as well as to produce sales catalogues. She was honoured with the title "Freeman of The Worshipful Company of Clockmakers" in London in 2013. Nathalie Mariellooni spent the period from 2015 to 2016 with Greubel Forsey, where she was notably in charge of monitoring technical projects and worked closely with senior management in the field of brand communication. She then went freelance in 2017, advising collectors, conducting evaluations and drawing up technical descriptions as well as reports on the condition of models put up for auction.

Her diversified education and training, her varied experiences in the public and private sectors, her technical knowledge and awareness of the industrial fabric, along with her flair for interaction and her great enthusiasm for the MIH make her an ideal fit for taking on the wide variety of tasks and responsibilities inherent in this position.

Jean-Michel Piguet has devoted his entire career to the MIH, having been active for 40 years in the museum and serving as assistant curator since 1988. A watchmaker who trained at the Technical School in the Vallée de Joux and in its counterpart in La Chaux-de-Fonds, he took on his first job as a practical teacher at the MIH antique horology restoration centre. In 1988, he joined the museum team that had just been placed under the scientific leadership of Catherine Cardinal. A key member of the senior management triumvirate from 2000 to 2014 alongside Ludwig Oeschlin and Nicole Bosshart, Jean-Michel Piguet subsequently ensured a form of continuity when Regis Huguenin took the reins of the institution in 2014. His longevity has given him unique knowledge of the museum's unique collection and enabled him to help it grow in a coherent and exemplary manner across three decades. His open-minded and helpful attitude have established Jean-Michel Piguet as a key figure in watchmaking circles.
February 08, 2018