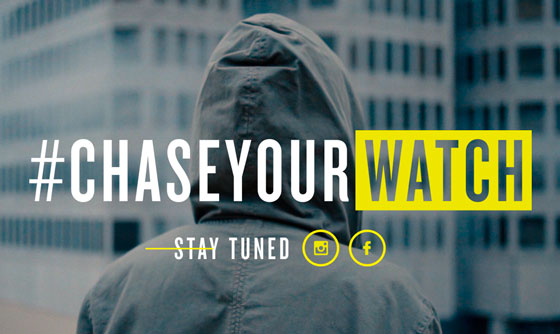 Sharpen your minds, flex your thumbs and rise to the challenge of a brand-new, exclusive experience. Maurice Lacroix launches #CHASEYOURWATCH, a world-wide treasure hunt, spread over three continents and four cities.
The final stage of this massive, online and real-world game will take place during Baselworld 2018. The goal? To locate a mystery black and yellow box. The contents? The material needed to reach Basel and access the final, most challenging phase of the play.

The game kicked off during the Geneva watch week in January via a black and yellow shipping container placed at the heart of the city's Cornavin train station.

In each city, a series of four clues will be revealed through the Maurice Lacroix Facebook and Instagram pages, thus engaging thrill-seekers from all walks of life. Solving the mystery will lead them to a secret location, where they'll come upon a black & yellow box. Inside each box are a plane ticket and a voucher for a stay in the town of Basel, during the 2018 Baselworld watch fair. At this international gathering, all four winners of the preliminary events will participate in the final step of the #CHASEYOURWATCH experience. An ultimate round of mystery, clues and puzzles awaits these fine detective minds.

On March 22nd, 6pm UTC+1, the final challenge – an escape room – will take place inside the same black container that travelled throughout the world. Situated on the Maurice Lacroix Baselworld booth, it acts as a common thread throughout the treasure hunt. Gathered inside that small space, the contestants will act as a team. They'll win together, or lose together. They'll have 20 minutes to find the solution of a full-scale, immersive mystery in order to break out. Their performance will be broadcast live. All we can say now is it involves a certain level of understanding of watchmaking and of Maurice Lacroix's unique approach.

If they win, the team will receive the four first watches of the Aikon Automatic Chronograph Limited Edition. This 500-piece series is an e-retail exclusive timepiece.
February 08, 2018