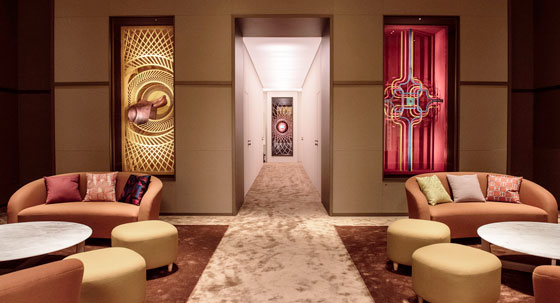 At this latest edition of the Salon International de la Haute Horlogerie (SIHH), Hermès became the 17th historical Maison. Keen to evoke its playful relationship with time, the brand unveiled a colourful booth.
Denis Montel, from the RDAI Parisian interior architecture agency, created a warm, sophisticated and contemporary setting. The furnishing provided a singular path along which sound and light created a sense of well-being. Visitors were welcomed into a spacious atrium composed of blond maplewood screens. Each timepiece from the Maison was presented in a transparent glass cube. A number of harmoniously arranged private areas were also conducive to more personal discussions and a chance to discover the Hermès collections.

At the heart of this scenography was an installation by Dutch artist Levi Van Veluw, offering an opportunity to view various displays, along with nine interactive animations operated by a set of pistons and gears.
February 01, 2018