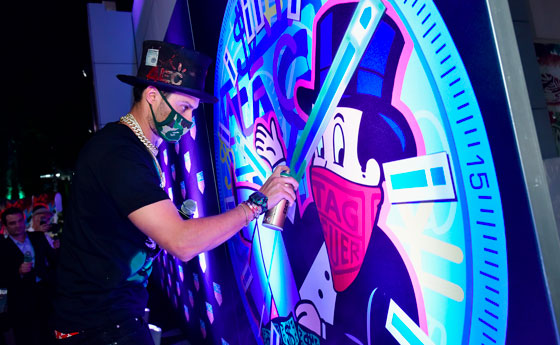 It was in the company of its ambassador and Art provocateur Alec Monopoly that TAG Heuer celebrated the Miami Art Week.
The two partners were present in the brand boutique, located in the heart of the Miami Design District. True to form, the artist unveiled a new work adorning the façade of the building.

Armed with his famous spray-paint cans, he also coloured 300 white straps intended for the upcoming launch of the dedicated TAG Heuer Connected Modular 45 limited series. This watch, featuring a special dial bearing Alec Monopoly's graffiti signature, will be presented in an original presentation box.

The artist also staged a special performance at the Fontainebleau Hotel. After scaling a 12-metre-high wall, he had fun in composing a one-of-a-kind artistic installation combining the TAG Heuer logo with the famous banker from the Monopoly board game.
January 11, 2018