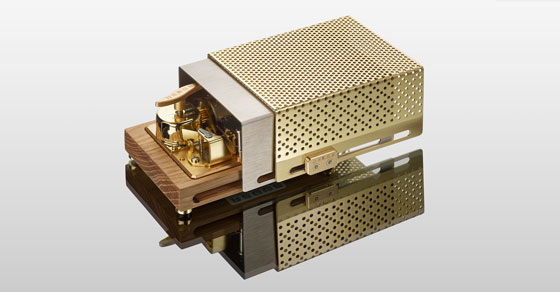 At the invitation of Design Ras Al Khor, a Dubai-based artistic initiative, the Lausanne University of Design (ECAL) presented the result of two partnerships with the music box producer Reuge on the "Industry to Luxury" theme at the Dubai Design Week.
Designed by the students from the 2010 and 2016 Master of Advanced Studies in Design for Luxury & Craftsmanship, these projects are contemporary interpretations of music boxes based on ancestral mechanisms that have changed very little since the Vaud-based manufacturer was founded in 1865.

The "Slightly Windy" project by José Ferrufino is composed of gold-overlaid ears of wheat. The latter are fixed to the main mechanism and the motion of the cams makes them sway in rhythm to the music, as if blown in the wind. "Naked" by Jungyou Choi reveals the beauty of the inner workings through two sliding metal covers. This rail system serves to alternately show and hide the heart of the object, thus playing with the varied effects of matter and light. "Speaker", imagined by Einat Kirschner, is inspired by contemporary musical accessories, such as radios or loudspeakers. The winding key reinterprets the design of volume buttons on such devices, while remaining close to the classical Reuge designs. "Meditation" by Clément Beaugé, offers a subtle dance between the light of a candle and the musical mechanism, while Audrey Temin's "Landscape" movement is a tangible interpretation of water and features a case that protects the music box and its bare mechanism. Finally, "Tracks" by Stéfane Halmaï-Voisard features a partly deconstructed mechanism with a rough finish that moves along jagged rails to the sound of rock-inspired background music.
December 07, 2017