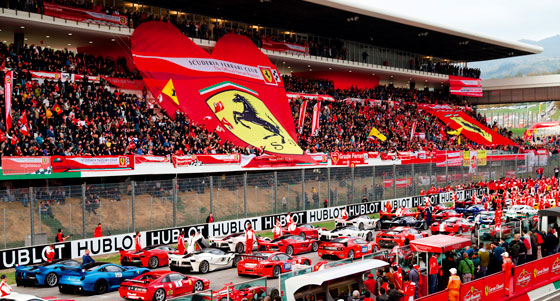 Every year, Ferrari organises the Finali Mondiali, a major celebration to mark the end of the Grand Touring racing season. Clients, fans and an array of largely red road and racing cars come together to share in a weekend of festivities.
The event includes exhibitions of the Prancing Horse's modern and historic models, a chance to experience a lap in a racing car, driver meet-and-greets and Formula 1 demonstrations of pit stops, thrilling accelerations and fast laps. The 2017 edition, which took place from 26th to 29th October, had an added dimension since it was part of the Company's 70-year anniversary.

A close partner of Ferrari, the brand had a high profile at the event. Hublot's colours were extremely visible on the circuit itself. The safety car, which featured in the many races held over the four-day event, was also decked out in Hublot colours. Drivers Martin Fuentes and Christophe Hurni, both friends of the Swiss brand, took part in the Ferrari Challenge competitions behind the wheel of their 488 Challenge cars.

A Hublot area, complete with pop-up store, was installed above the paddocks to welcome friends and clients in comfort and to enable them to discover the Nyon-based Manufacture's products, in particular the Hublot Techframe Ferrari Tourbillon Chronograph.
November 09, 2017