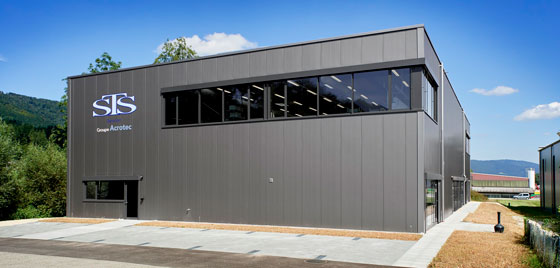 On October 19th, the Acrotec group inaugurated a new 1,600 sq.m production building in Develier.
This brand-new entity regroups the STS Develier and Mu-DEC companies. Bernard Lauper, CEO of STS Develier; and Yann Le Martret, CEO of mu-DEC, all attended the ceremony.

The new production pole offers three advantages: the first is to meet in-house the electroplating and surface treatment needs of Vardeco, a company belonging to the group and active in the field of connector technology; the second is to develop a new player in the field of industrial and watchmaking electroplating in the Jura; and the third is to develop the micro-profile-turning of complex parts, a field in which mu-DEC is one of the rare operators.

The mu-DEC company, which currently employs two people, specialises in the production of components measuring from 0.06 to 16mm in diameter and intended for the field of haute horlogerie. The STS Develier firm, which has seven employees, specialises in electroplating and plans to create five new jobs in the course of 2018.
November 09, 2017