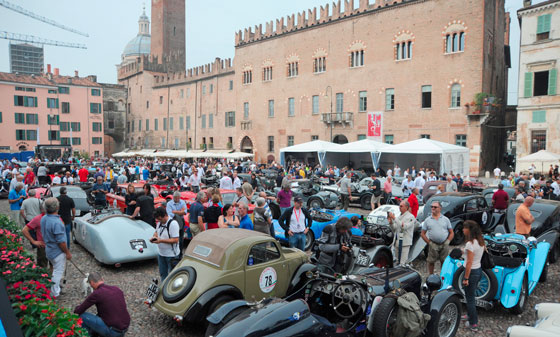 Eberhard & Co played a passionately active part in the 27th edition of the Gran Premio Nuvolari, the famous Italian classic car race that took place from September 15th to 17th.
The watch brand served as official timekeeper for the various stages of the competition which featured a new route this year.
Setting off from Mantova, the 300 teams in competition wound their way along more than 1,000 km on the roads of Italy, crossing the Po Plain and the Apennines, then on through the regions of Rimini, Tuscany, Umbria, Marchese and Emilia Romagna, before returning to their point of departure. Andrea Vesco and Andrea Guerini took first place aboard their 1938 BMW 328, closely followed by Juan Tonconogy and Barbara Ruffini (Bugatti Type40, 1927) and then by Belometti and Vavassori (Fiat 508 Balilla Spider Sport, 1932).

Also taking part in the event was Mario Peserico, CEO Eberhard & Co, alongside brand ambassador and two-time world rally champion Miki Biasion.
October 12, 2017