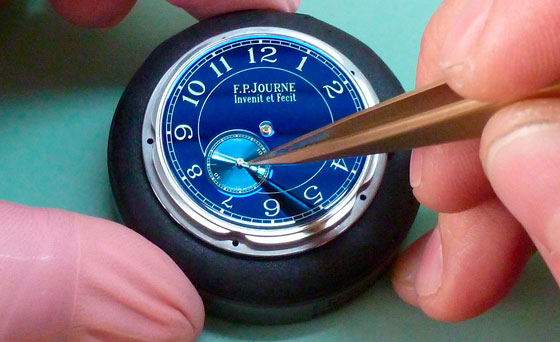 In September 2012, F.P. Journe announced the inauguration of Cadraniers de Genève and Boîtiers de Genève, both located under a single roof in Meyrin on the outskirts of Geneva. This prestigious watchmaking pole is celebrating its five years of serving the high-end watch industry.
Boîtiers de Genève mainly makes cases and wristbands intended for F.P. Journe timepieces, while Cadraniers de Genève produces precious dials for the Geneva-based company, as well as for other prestigious watch brands. The quantities are consistently limited, the goal being to preserve the quality and a high degree of craftsmanship, rather than aiming for quantity.

Thanks to their expertise, Cadraniers de Genève has integrated a workshop dedicated to restoring historical dials, combining the traditional artisan-style techniques with contemporary approaches. They also create vintage dials based on original designs. Several watch brands have called upon their services with the aim of replicating vintage dials.

The impressive development of the Cadraniers and Boîtiers de Genève has enabled F.P. Journe, which owns the twin companies, to remain entirely independent.
October 05, 2017