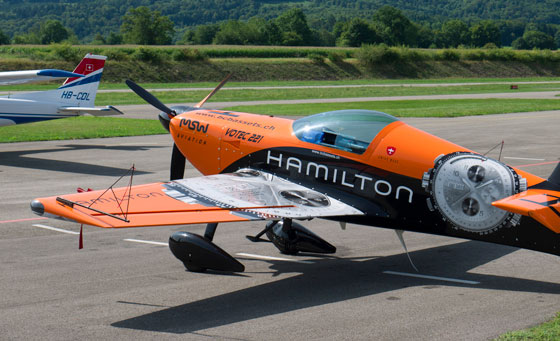 From August 21st to 26th 2017, the 64th edition of the Swiss National Aerobatics Championship (SNAC) took place at the Bressaucourt aerodrome in Porrentruy.
Jointly organised by the Swiss Aerobatic Association (SAA) and Hamilton, the event saw the finest Swiss pilots vying with each other in the "Sportsmen", "Intermediate", "Advanced" and "Unlimited" categories. Alongside the contest for the prestigious title of Swiss National Aerobatics Champion, the competition also served as a basis for selecting the Swiss national teams.

A superb sport to admire from the ground and a fantastic experience in the cockpit, aerobatics is also an excellent means of reinforcing aviation security in the broader sense of the term. Pilots trained to master their plane in the unusual positions of their gravity-defying exercises are better prepared to face emergency situations, whether in private aviation, commercial flights or at the controls of passenger aircraft. A number of aerobatics are indeed civil aviation professionals. This offers the undeniable advantage of enhanced security by means of this complementary activity.
Seven days of competition featured loops, rolls, spins, inverted flights, snap rolls, tail slides and a variety of other exotic maneuvers. The event provided some breathtaking sights in the skies above Bressaucourt. The event also offered shows and other forms of entertainment on the ground, whisking the public into a little-known world. The highlight of this aerial week came on Saturday with no less than 200 maiden flights, as well as aerobatics passenger flights and other demonstrations. These provided an opportunity to sense the thrills experienced by these exceptional pilots. The crowds were also able to enjoy various attractions as well as an evening concert.

Hamilton is strongly present in Swiss aerodromes and has established strong links with Swiss pilots. Today, three of Switzerland's finest aerobatics pilots are flying the brand flag. "Our story began in 1918 with American aviation pioneers and this field remains one of our main pillars, which is why we are particularly proud to support Swiss aerobatics", said Sylvain Dolla, CEO Hamilton International.
September 07, 2017