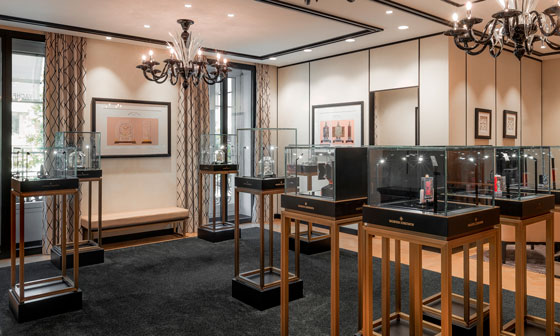 Vacheron Constantin is showcasing a remarkable set of table clocks from the 1920s.
These models unique in the world belong to the Heritage collection and are distinguished by an Art Deco style imbued with Asian influences. Subtly associating artistic crafts, mechanical expertise and oriental or geometrical inspiration, each reflects the artistic movement of its era as well as the exclusive know-how of the Maison. Ornamental horological works of great aesthetic diversity and exceptional rarity, to be explored in the refined atmosphere of the Vacheron Constantin Boutique in Geneva.

Custodian of an authentic treasure, the Vacheron Constantin Heritage department keeps watch over a precious heritage comprising more than 1,300 horological creations and an extraordinary set of archives – all of which bear testimony to the history and expertise of the Manufacture itself, as well as to the evolution of watchmaking across the centuries. The department is entrusted with the two-fold mission of preserving this cultural wealth as well as making it available to the public. Its new exhibition – entitled "Reflections of Time" – highlights a little-known facet of the Maison's history: the creation of table clocks in the late 1920s. This exceptional patrimonial collection comprises a dozen one-of-a-kind models now on show to the public for the first time ever.

Distinguished by considerable stylistic variety, the table clocks developed by Vacheron Constantin between 1920 and 1930 reflect the originality (some might even say eccentricity), the mechanical expertise and the passion for artistic crafts expressed during the prolific Roaring Twenties. These tailor-made creations are authentic ornamental pieces celebrating the artistic currents of the era and mingling the formal equilibrium of Art Deco, Japonism, the inspirations of Chinese symbolism and the aesthetic tastes of those who commissioned them. Daintily sized yet nonetheless far larger than pocket watches, table clocks afforded new scope for expression of artistic crafts. The finest artisans – engravers, gemsetters and enamellists – enlisted by Vacheron Constantin thereby combined their talents with those of the watchmakers in the Manufacture in giving life to technically sophisticated and splendidly crafted creations.
August 31, 2017