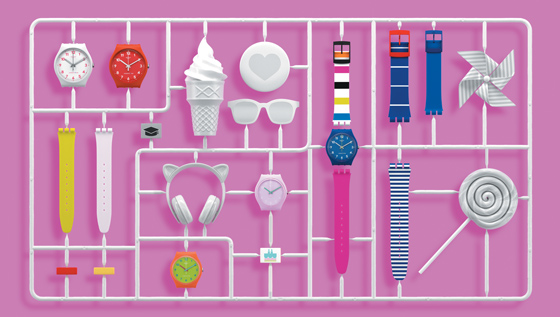 For more than 34 years, Swatch has enjoyed sensational success with its trendy watches featuring a pure design. It is in this innovative spirit that the watch brand unveiled the Swatch X You concept, a method inviting brand enthusiasts to compose their own timepiece.
Creating a personal Swatch is now child's play thanks to five easy stages, online or in boutiques. Based on a choice of dials, straps, buckles and loops, everyone can design their own version in no time.
The process begins by selecting the size of the case – either Gent or New Gent – and then the dial model. Then comes the choice of the two silicon strap sections at 12 and 6 o'clock: from block mint green to multi-coloured stripes, there is something to suit every taste. And finally, a chance to give the last touch to this unique look with a loop chosen from those on offer. One can even add an additional decorative element or a Swarovski crystal. Everything is designed to make the Swatch X You watch the ideal personalized gift, to be shared on social networks via the hashtag #swatchXme.
July 13, 2017