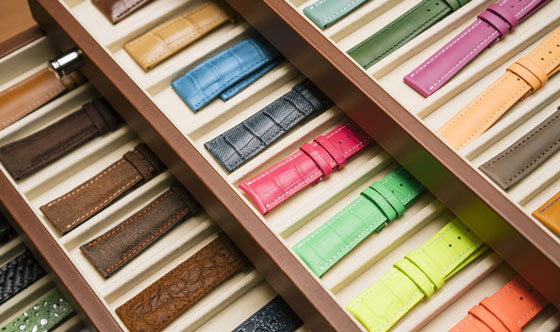 On June 16th 2017, in front of an audience representing more than 45 Watch Brands, the Association AQC presents its new label dedicated to leather straps.
For Angelika Duckenfield, President of AQC, "This label is an additional service provided to the watch brands to guarantee the highest possible level of safety in the leather strap industry".
This label has been put in place thanks to the collaborative work carried out by AQC and the entire supply chain on companies' corporate and social responsiblity, and especially on chemical compliance and traceability.
Until now, leather straps have represented one of the last remaining products for which no harmonization, certification or communication have been undertaken in terms of product safety, even though a high level of quality and security can be guaranteed. Consumers are increasingly sensitive to products' safety, traceability and authenticity, as well as to respect for ethics and environmental standards in manufacturing processes. This trend is even more true for luxury goods. On the other hand, the risk of chemical non-conformity is still underestimated by many companies, both in relation to REACH2 in Europe but also in terms of all regulations at international level. The AQC (Association pour l'Assurance Qualité des Fabricants de Bracelets Cuir) label testifies to the excellence of the skills exercised by watch strap manufacturers entitled to use this collective trademark, as well as to the high level of quality and security of their production.
The scope of the AQC label:
An AQC strap is made from the finest leathers of bovines or alligators which are selected for their quality from AQC suppliers who are committed to the provenance of the raw materials and meet strict specifications.
The tanneries are known and are all subject to regular checks to verify the correct application of the AQC specifications. The AQC also verify that their social and environmental practices comply with European standards.
The leathers used in the manufacture of AQC straps are subject to a specific control plan to monitor the absence of chemical substances that could be a risk to consumers' health.
All materials used for the manufacture of an AQC strap (leather, threads, textiles, glues, dyes, metals, etc.) are subjected to enhanced monitoring to ensure their chemical compliance with European (in particular REACH) and international regulations.
AQC has set up a surveillance of its members and the products used to ensure the absence of hazardous substances generated during the manufacture of a leather strap.
AQC members comply with specific rules and procedures for production traceability.
AQC has developed a specific program to identify, evaluate and reduce the presence of allergens in straps.
AQC is an international Swiss-based association regrouping manufacturers of leather straps for Haute Horlogerie. The Association was officially founded in June 2014 by five leather strap manufacturers (Brasport, Camille Fournet, Hirsch Armbänder, Interstrap and Multicuirs). AQC members represent more than 70% of the world's production of luxury leather straps.
July 13, 2017