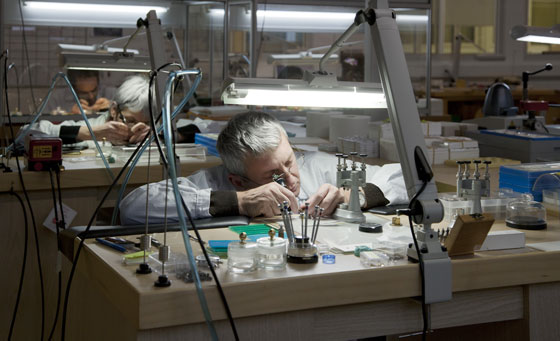 According to annual figures published by the Convention Patronale de l'Industrie Horlogère Suisse (CP), which is the Swiss watch industry employers association, 56,802 people were employed in the watchmaking and microtechnical sector in Switzerland as of September 30th 2016, which was 1,996 less than in 2015 (-3.4%).
This moderate drop demonstrates the considerable effort undertaken by Swiss companies in the sector in order to safeguard jobs and expertise despite a considerable number of economic and geopolitical uncertainties.
Production staff, representing three-quarters of total personnel, is an authentic barometer for the sector. Naturally affected by the economic slowdown, it slid by 3,014 units (-7.1%) to 39,526 units. Conversely, administrative staff numbers grew by 909 units (+6.3%) to 15,324 units. This increase is mainly due to technical reasons: the inclusion of watch boutiques not previously taken into account, as well as the fact that some companies list production management staff as administrative staff. As far as the two other categories are concerned, there was a rise in the number of executives (1,804 units, +137) and a drop in staff working from home (148 units, -28). By way of reminder, the latter category represents a very small proportion (0.3% of overall watch industry personnel).
As far as staff levels are concerned, the top three watchmaking cantons are still Neuchâtel (14,495), Bern (11,505) and Geneva (10,014), which jointly account for almost two-thirds of the total number of posts. The other third is composed of the following cantons: Jura (6,493), Vaud (5,673), Solothurn (3,765), Ticino (2,151), and to a lesser extent Schaffhausen (837), Basel-Land (690), Valais (652) and Fribourg (203).
The proportion of workers with a professional qualification or higher education amounts to 69.2%, compared with 66.5% in 2015. The share of qualified personnel increases steadily year after year, currently representing about 70%, as against only one-third 25 years ago. It testifies to the constant increase in quality requirements prevailing in the watch industry.
The number of apprentices has also risen slightly: 1,247 people are currently serving an in-company apprenticeship (dual vocational training), representing 2.3 % of total posts. By taking appropriate measures, such as promoting dual vocational training, the rise in apprenticeship numbers should be confirmed in the future.
The number of companies is slightly down since the last count (699 compared with 709), mainly in the watch retail area. Among the other fields of activity, finished products account for 19.7% of companies in the sector. Subcontracting represents 40.9%. The latter category encompasses firms active in the production of movement blanks, movements, watch components, galvanic plating, polishing or decoration. Almost one-quarter of the companies are from sectors indirectly linked to the watch industry, such as microtechnical engineering or machine production.
The vast majority of companies is subject to the Convention Bargaining Agreement (CBA) signed with the industry trade unions, representing almost three-quarters of the total number (512 units) and employing 48,786 people. In other words, 85.9% of workers in 2016 were exercising their activity in companies subject to the CBA. Watchmaking is thus one of the country's most widely regulated sectors.
July 13, 2017