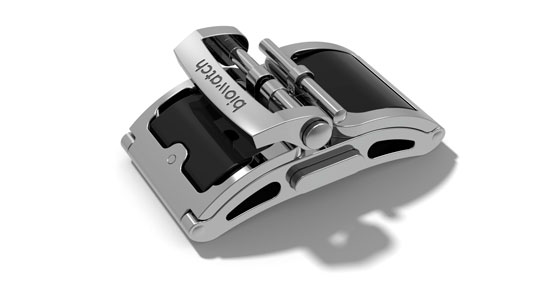 Boucledor, a company involved in the development and production of buckles and clasps for Fine Watchmaking as well as luxury jewellery, is launching a folding buckle for watchbands featuring biometric recognition of individual vein patterns. This innovation was developed in partnership with Swiss startup Biowatch SA.
This revolutionary buckle is fitted with a module enabling biometric identification of the vein pattern on the wrist, and endowed with electronics capable of handling various applications – such as bank card payments, access control, ticketing and many others – using Bluetooth Low Energy (BLE) and Near Field Communication (NFC) wireless connections. The built-in rechargeable battery delivers over two weeks' autonomy. This product can be fitted on all types of wristbands, apart from metal bracelets that would disturb transmission.

The buckle is designed to be user-friendly, reliable with few components, attractive, as well as reflecting the values of excellence and technical mastery upheld by Boucledor. Its modular nature enables smooth and easy changeovers to other watches.

This product confers a new role on folding buckles, alongside new functions, alongside their traditional watch industry purpose of merely securing a watch in place. It opens up new prospects of integrating a biometric security function to guarantee the wearer's personal details, such as lock codes, passwords and payments. It also maintains the fundamentals of traditional watchmaking (aesthetic and functional quality, precious material) while making the most of secure access to modern-day connectivity technologies. The buckle can be made from 1.44 steel, white gold, 5N red gold or titanium.

Biowatch is based in Lausanne and was founded in 2015 by Joe Rice, the inventor of vein pattern recognition, and Matthias Vanoni, a doctoral student at the Swiss Federal Institute of Technology Lausanne. The startup has seven employees to date and its corporate vision consists of considering any watch or wristband as a potential source of identification enabling its use – just like fingerprints – as a replacement for cards, badges, PIN codes, passwords, keys and other biometrical solutions, provided that it incorporates an ad hoc biometric recognition solution. A secure solution that spells the end of tedious authentication stages and the advent of a form of authentication that is as convenient and practical as simply wearing a watch.
June 29, 2017