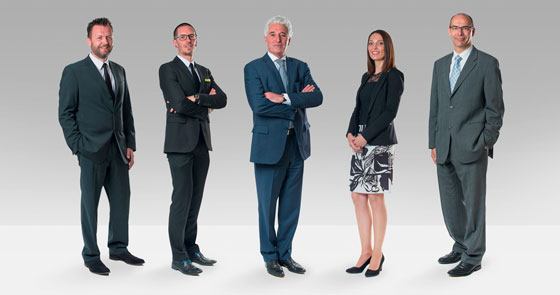 Frederic Dupuis, Pierre Berberat, Philippe Caste, Virginie Tronci and Alain Guillaume
Guillod-Günther, a company based in La Chaux-de-Fonds, which has worked for the past 150 years on the design of watchcases, recently announced the acquisition of its capital by its management team.
Already in place and backed by extensive experience, the management consists of Philippe Caste, Chief Executive Officer, Virginie Tronci, Commercial & Marketing Director, Pierre Berberat, Technical Director, Frédéric Dupuis, Industrial Director, together with Alain Guillaume, Financial & Administrative Director. Jean Guillod, a historical figure of the enterprise, is to retain his role as member of the Board of Directors.

This acquisition, made possible by the support of the previous shareholders, follows on from the many actions put in place in the past 18 months as part of the new strategy. Committed to a constructive approach and driven by clear development ambitions, the new shareholding structure will continue the efforts undertaken to propose a strong and distinctive offering, supported by exceptional resources and a cutting edge infrastructure.

These actions include the transfer of the factory, which will take up its quarters this summer in up-to-date and functional new premises in La Chaux-de-Fonds. This acquisition will be accompanied by an adjustment of the staffing levels under which a majority of the jobs will be retained by the managerial team.

The relationship of trust which it maintains with its clients and the welcome given to recent projects such as SlimCase and Time To Client, confirm this company's new strategy to adopt a different position. Convinced that Guillod-Günther now has all the assets needed to contend with the present economic situation, five top executives are working hard to take up the challenges of coming years.

Based in La Chaux-de-Fonds, Guillod-Günther has specialised for 150 years in the development and manufacture of complex and sophisticated cases in small and medium series, placed at the service of prestigious watch industry brands with which the company maintains relations based on permanence and trust. Over the decades, the enterprise has extended its range of materials to include steel, titanium and some composite materials.
May 18, 2017