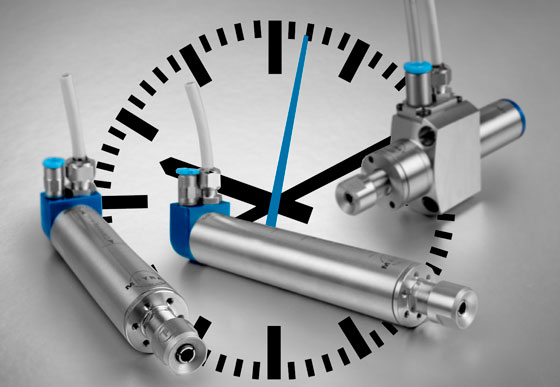 When it comes to movement components or watch exterior elements, the world of horological machining uses a large number of spindles. And it is no coincidence that Meyrat, the Swiss specialist in the world for 70 years, is located in Bienne just a few steps from a watch manufacturer with the famous crown logo.
The skillsets required to produce prestigious timepieces and high-precision machining spindles are indeed very much the same: micron-level mastery, meticulous concern for details and quality, as well as dedication to customer satisfaction.

Representing the common denominator between technologies such as milling, grinding and lathing, spindles are at the very heart of horological machining. Those produced by Meyrat are fitted in thousands of machines, whether used by manufacturers or subcontractors.

Machine tools are becoming ever more compact and requirements are no less stringent, quite the reverse. In a number of automatic lathes, the standard reaming tools designed for tool-holders measure 16 mm in diameter and the lengthwise space available is extremely small. Based on this reality, the Bienne-based manufacturer offers the shortest (80 mm) compact high-frequency spindle (MH-16 - 80,000 rpm) on the market. Available with axial, radial or front-positioned connections and in two different lengths, it adapts to all watch machining technologies.

Spindles in the MHT (Meyrat High Torque) range deliver four times greater torque than normal versions of equivalent size. When machining tough materials such as titanium or stainless steel, they ensure both perfect surface states and high productivity rates. Equipped with direct-drive systems with no speed reducers, they guarantee extremely long, maintenance-free lifespans. These models come in several versions: standard air-cooled, central water-cooled, or with automatic tool change. The connection may be radial or axial.

The company's strategic location at the very heart of the market means its specialists are well aware of the constraints involved in watchmaking and can deliver swift and accurate responses. 90% produced in Bienne, this pure Swiss product is rapidly available in a standard version. For special applications, Meyrat also offers a customised spindle development service.
May 11, 2017