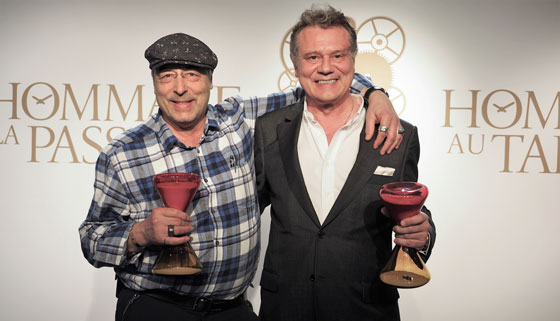 Ludwig Oechslin and François-Paul Journe
Each year, the Luxury Watchmaking Foundation (FHH) distinguishes two prominent personages from the watch industry world who have made their mark on the time measurement universe through their style and expertise.
Organised on 30 March at the Cité du temps in Geneva with the support of the city, this event formed part of the European Arts and Craft Trades Days 2017.
This fifth edition saw the "Homage to Talent" prize awarded to François-Paul Journe, the master watchmaker, designer and founder of the Geneva-based manufacturing firm which bears his name. An expert in restoration, he unveiled his first collection in 1999. Signed with his name followed by the words «Invenit et Fecit» - an inscription borrowed from Jean-Antoine Lépine -, it immediately made its mark. In almost thirty years, François-Paul Journe has received an array of honours and awards. Recipient of the Prix Gaïa for best watchmaker and Chevalier des Arts et des Lettres, this award comes as renewed recognition by his peers of his exceptional talent.

The «Hommage à la Passion» prize goes to Ludwig Oechslin. A student of history and philosophy, physics and astronomy, he swapped his scholar's cap for the watchmaker's white coat. Having trained first in restoration, including a project for the Vatican, it was almost by chance that he was spotted by Rolf Schnyder, proprietor of Ulysse Nardin, and would imagine some of the Manufacture's finest timepieces, and not just extraordinary astronomical watches. Ludwig Oechslin continued his career as curator of the Musée international d'Horlogerie in La Chaux-de-Fonds. From there, he went on to launch Ochs & Junior, in 2014, a brand that advocates a simple approach to complex problems.
April 20, 2017