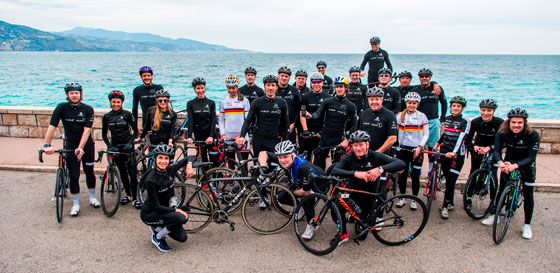 In February, IWC Schaffhausen celebrated the Laureus World Sports Awards in Monaco in the company of celebrities and influencers from the world of sports.
The highlights of the event included a bike tour with the Formula One world champion Nico Rosberg and the official launch of the Da Vinci Chronograph Edition "Laureus Sport for Good Foundation". Limited to 1,500 watches, this timepiece with its blue dial and back engraving is the 11th special edition to be launched by IWC as part of its commitment to the Laureus Sport for Good Foundation. Some of the proceeds from the sales are used to help to support the foundation's sports projects for children and adolescents.

Each year, the Laureus foundation organizes the Laureus World Sports Awards to honour the most successful athletes and raise awareness of its projects. The winners are selected by members of the Laureus World Sports Academy. Three former athletes were also newly accepted into this circle, which now includes 61 sporting legends: Swiss cyclist Fabian Cancellara, Dutch footballer Ruud Gullit and Scottish track cyclist Sir Chris Hoy. The new members received a Da Vinci Chronograph Edition "Laureus Sport for Good Foundation" from the IWC CEO Christoph Grainger-Herr in Monaco.

The Laureus World Sports Awards returned to its roots this year. The inaugural award ceremony was held in Monaco in 2000 and saw the former Laureus President Nelson Mandela laying the foundation for the global Laureus movement. Appearing at the festive gala in the "Salle des Etoiles" at the Monte-Carlo Sporting were numerous sports stars and VIP guests, including Boris Becker, Serhij Bubka, Michael Johnson, Mika Häkkinen and Katarina Witt.

Eliminating prejudice, breaking down barriers and improving school achievements: these are just three of many benefits sports can bring. Since 1999, the Laureus Sport for Good Foundation has been harnessing the integrative force of sport to bring about social change and offer more promising future prospects for disadvantaged children and adolescents. The charitable organization has provided financial support for over 150 sports projects in 35 countries to date - for instance, PeacePlayers International, a project that actively encourages Greek-Cypriot and Turkish-Cypriot boys and girls in the divided country of Cyprus to play basketball together.
March 02, 2017