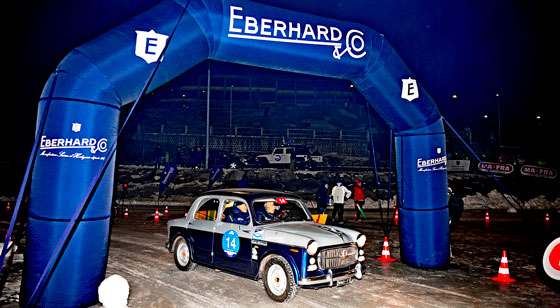 The twenty-ninth edition of the Winter Marathon, the classic regularity race for historic cars which brought top international drivers to Madonna di Campiglio at the end of January, closed with the "Eberhard Trophy" victory.
This knock-out challenge, for the first 32 crews to classify, was won by the duo Belometti and Peli in a 1932 Fiat Siata Balilla.

The winners of the 2017 Edition of the Winter Marathon were Alberto Aliverti and Alberto Maffi in a 1937 Fiat 508. It was their second Winter Marathon victory, in a race that saw them in the lead with a close head-to-head with Belometti-Peli's 1932 Fiat Siata 508 S Balilla Sport and Patron-Casale's 1925 Bentley 3-Litre, who placed second and third. There was no lack of surprises along the over 440 km of the demanding race route devised by the organisers with 51 time trials, 50 of which counted towards the final classification.

Miki Biasion, the watchmaker's brand ambassador and twice rally world champion, was invited to try his hand at a regularity race for once, in a 1976 Lancia Fulvia Coupé 1.3 S Safari (produced in 900 numbered units, of which very few are left). He put on quite a show on Madonna di Campiglio's frozen lake and warmed the hearts of all his fans, in spite of the low temperatures.
February 16, 2017