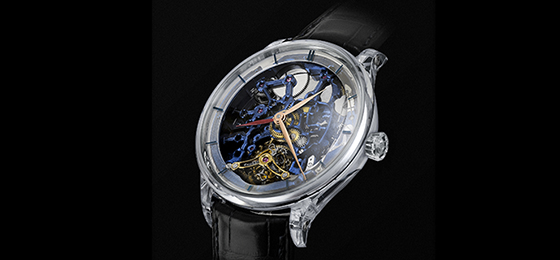 The firm from Schaffhausen presented its Venturer Tourbillon Dual Time Sapphire Skeleton model at Baselworld 2015.
This timepiece comprised an all-new skeleton movement completed by a case fashioned entirely in sapphire and a bracelet created by 3D printing. Fallen under the charm of this watch, Laurent Piccioto, founder of the Parisian Chronopassion boutique, had acquired the object at a price of 1 million francs. This watch enthusiast then went even further and asked the firm to create a second copy.

Bolder still, the Venturer Tourbillon Dual Time Sapphire Blue Skeleton features a case made entirely of sapphire material. Thanks to this complete transparency, the play of light enhances the tourbillon, the finish of the sides, the delicacy of the bezel, the curvature of the dial and crystal as well as the proportions evoking convex shapes of the 1960s. Innovative and at the same time provocative, this model allies tradition, design and horological complication with brio.
December 22, 2016