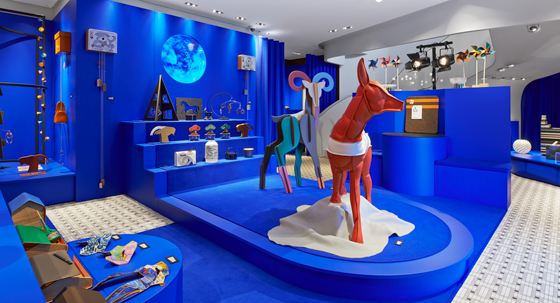 Last November the atelier petit h took up its quarters for two weeks in the Hermès boutique in Geneva.
Objects made jointly by the ECAL (Lausanne Cantonal School of Art) and HEAD (Geneva High School of Art and Design) were displayed for the first time.
Created in 2010 by Pascale Mussard, a member of the sixth generation of the Hermès family, the Parisian art studio has also been permanently installed in the Hermès boutique in the city of light. This laboratory is an effective concentrate of creativity where artists, designers, materials signed by Hermès and craft expertise all meet up. The principle is simple: breathing new life into the unexploited treasures and unused materials of the house. A striped piece of leather, a thread drawn in a silk square or fabrics with faded colours: nothing is thrown away, everything becomes a source of inspiration.

In cooperation with Pascale Mussard, art director of the studio, students on the Master of Advanced Studies in Design for Luxury & Craft course at the ECAL have created a series of exclusive objects under the watchful eye of Nicolas Le Moigne, programme leader, and London designer Bethan Laura Wood. Among the series of objects on offer, Hermès found five works particularly appealing. The revisited spinning tops by Hyungjee Jung, coloured fans by Einat Kirschner, boxes and pouches by Maud Laurent, reversible masks by Jiwon Choi and the vegetable garden trays by Clarisse Mordret.

At a workshop led by Alexandra Midal and Arno Mathies, professor and head of the Spaces and Communication master's degree course respectively at the Geneva School, and Felipe Ribon, designer and photographer, the HEAD students not only created the complete scenography to display these new petit h objects but also the visual identity of the event at this pop-up sale. These creations will later be shown on successive stages of a journey across the world.
December 22, 2016