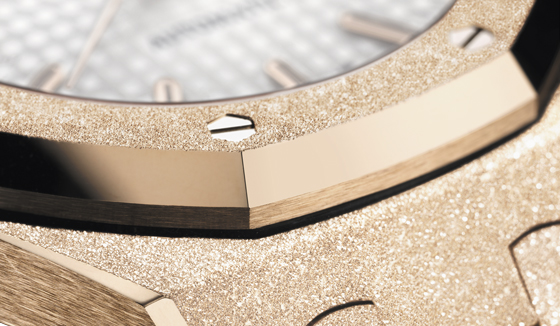 The firm from Vaud Canton has unveiled the new Royal Oak Frosted Gold, a reinterpretation of the iconic timepiece.
Available in white or rose gold, this version takes on a fresh and sparkling design created in cooperation with Carolina Bucci, a jewellery designer from Florence. This new collection therefore pays tribute to the creative women who have made their mark on the history of this watch, from Jacqueline Dimier - who was asked to imagine the first Royal Oak for women in 1976 - to the Italian artist.

All the timepieces feature a sparkling presence created by meticulous surface treatment applied to the gold, itself inspired by a traditional metal beating process, also known as the «Florentine technique». Updated to suit today's taste criteria, this process consists in beating the precious metal using a tool fitted with a diamond tip, so enabling a sparkling effect similar to that of gemstones or diamond dust to be obtained.

The craftsmen at Audemars Piguet wanted to adapt this metal working to the whole case and bracelet of the Royal Oak without interfering with the uncluttered lines which typify its design. They also had to review the sequence of performance of the other finishing processes (polishing and fine-brushing) because of the characteristic layout of the Royal Oak bracelet links in descending order. Months of collaboration and hard work were needed between Carolina Bucci's Florentine craftsmen and the specialists in the manufacturer's own workshops to obtain a sparkling finish, while maintaining a very soft effect to the touch and retaining the flexibility of the Royal Oak bracelet.

The fusion of the timeless design of the original version with the new approach adopted for the freshly unveiled model strengthens the links between modern watchmaking and contemporary jewellery.
December 08, 2016