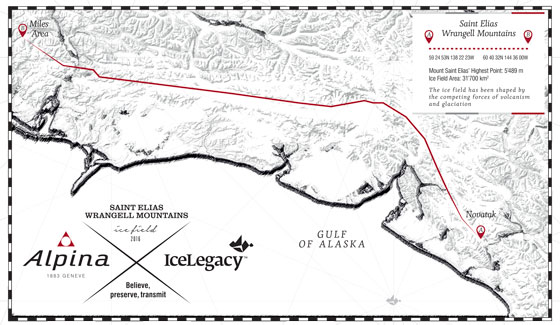 Norwegian Polar Explorer Børge Ousland and French Adventurer Vincent Colliard are currently attempting the unsupported crossing of the St. Elias Ice Field.
They started their expedition on the 21st of April and are currently on the ice for their third glacier crossing - after the successful Main Spitsbergen and Stikine Glacier crossings - of the Alpina & Ice Legacy Project, a long-term expedition project to become the first men to cross the 20 largest glaciers on earth. The aim is to raise public awareness about the importance for mankind of preserving the ancestral ice, and to collect data for the scientific community. Both adventurers will wear the Alpina Horological Smartwatch to measure their activity parameters and sleep during the crossing.

The explorers first embarked on a flying journey onboard a Cessna 185 with all their gear. The plan is to fly over the icecap all the way to the start point, Novatak. From there, they pulled their sleds for about 430 kilometers. Then Børge Ousland and Vincent Colliard hope to use their light rafts and paddle the Copper river for 30 to 40 kilometers before the pick up point. They will take food and fuel for approximately 40 days. It is possible to follow the expedition daily through the website www.icelegacy.com.
May 19, 2016