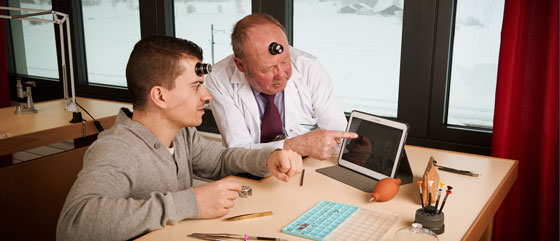 Immerse yourself in the world of watchmaking and create your own timepiece in the homeland of the first farmer-watchmakers! An original experience proposed by Initium.
Open to all, the lessons given by Initium allow anyone to make their own unique mechanical watch and take it away as a souvenir at the end of the course. Sat at the bench like a professional horologist and guided by a master watchmaker, participants discover the subtleties of a self-winding mechanical movement and learn how to assemble its different components.

A tailor-made watch
A master watchmaker on the premises shares his experience - acquired at leading manufactures in the region - and guides apprentices through the different stages of making and assembling their watch. In just a few hours, participants produce their timepiece exactly in accordance with their wishes, at the same time creating for themselves a tangible and truly remarkable souvenir. Various formulas and course lengths are proposed to ensure that participants enjoy an unforgettable experience. Depending on the package chosen, the apprentice watchmaker spends between half a day and one-and-a-half days at the bench, carrying out various tasks such as dismantling or assembling a movement, or testing their skills at engraving or chamfering by hand. Participants choose from a wide assortment of high-end Swiss components and assemble a uniquely designed watch. They can also personalise their timepiece by having it engraved with their name or that of a loved one.

An exceptional experience
While other bodies also organise watchmaking courses, Initium has adopted an innovative approach which offers a truly immersive human experience. The firm is established in Le Noirmont, in the Jura, not far from the Relais Château Georges Wenger, the region's famous gastronomic restaurant. Depending on the type of course chosen, lunch in this prestigious establishment is included in the price. Another package, another possibility: if you opt for the one-and-a-half day course, the evening meal is also included in the fixed price. In which case you will dine at the Espace Paysan Horloger, another very popular venue in the region which boasts a restaurant, a hotel and a museum dedicated to early farmer-watchmakers. It is also here that guests spend the night, wholly immersed. Initium also offers stays which can be personalised on request.

Three entrepreneurs
Initium is the brainchild of three Swiss French-speakers, Karim Mellouli, Mathieu Gigandet and Gilles Francfort. Fresh out of university, they became friends in the lecture halls of Fribourg School of Management and are passionate followers of mechanical watchmaking. Having close ties with the Jura region - Mathieu Gigandet was born there and Gilles Francfort grew up in the Joux Valley - it was only natural that they should choose to set up their project in Le Noirmont. The aim being not only to consolidate centuries of know-how that has deep roots in the Franches-Montagnes region, but also to bring it to the attention of the general public.

For more information: www.initium.ch.
May 21, 2015