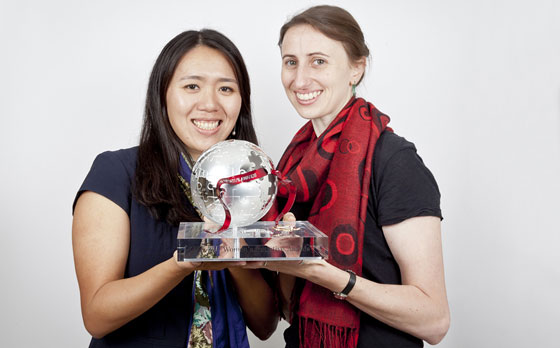 The Cartier Women's Initiative Awards is an international enterprise creation competition for women, launched in 2006 by Cartier and the Women's Forum, with the support of the INSEAD Management School and the McKinsey & Company consultancy. Six women entrepreneurs, one for each geographical region of the world, receive distinctions each year. They have been chosen by an independent jury of volunteers consisting of entrepreneurs and professionals drawn from the business world. Selected from more than 1,000 entries, the winning projects feature great creativity, social range and long-term financial viability. Each prize winner receives a year of personalised accompaniment, 20,000 dollars and an exclusive trophy bearing the Cartier signature.
The prize rewards entrepreneurs who share a common spirit - the desire to create better economic and social conditions. Their enterprises are founded on innovation, passion and generosity. The 2014 prize winners are: Bel Pesce (Brazil), trainings in innovation and entrepreneurial values for Latin America; Eleni Antoniadou (United States), creation of artificial organs for transplants; Carla Delfino (Italy), an ecological repellent to deter rodents, for Europe; Achenyo Idachaba (Nigeria), household accessories made of braided water hyacinths, for sub-Saharan Africa; Mariam Hazem (Egypt), recycling of plastic bags as design objects, for the Middle East and North Africa; Diana Jue & Jackie Stenson (India), distribution of innovative products in rural areas, for Asia Pacific.
Since its inception, the competition has provided support for 140 women in charge of 129 companies on all five continents.
November 06, 2014