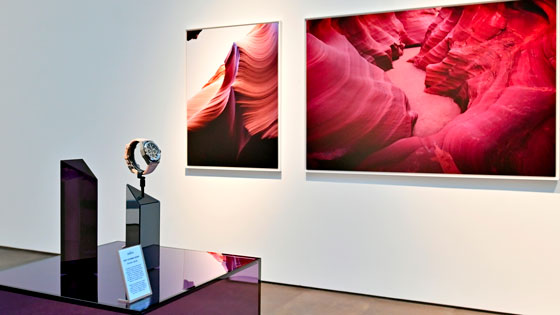 In collaboration with naturalist photographer Kourosh Keynejad, Zenith celebrated the launch of the first special edition of the Defy Extreme chronograph.
On this occasion, the brand has stepped out onto uncharted territories, resulting in a piece that's as much precision watchmaking as it is a wearable piece of art. Inspired by the wild and barren desert landscapes, this timepiece represents a more artistic reimagining of the monolithic 1/100th of a second chronograph, and the first in a developing series of models inspired by extreme environments. Crafted in a titanium case, the Defy Extreme Desert evokes the endless sandy horizon in a singular and unprecedented manner. The component that protects the pushers as well as the dodecagonal bezel are crafted from falcon's eye, a blue-grey opaque macrocrystalline quartz gemstone named after the bird-of-prey that has accompanied desert nomads for centuries, soaring high above the horizon and symbolising determination and endurance.

After years of journeying solo across the globe to the most extreme and remote destinations and capturing them in stunning images, the British-born photographer based in California has made a name for himself with his breath-taking images, bringing out the unseen beauty of the wilderness.

Accompanying the launch of the DEFY Extreme Desert edition, Kourosh Keynejad has captured an exclusive set of images for Zenith inspired by the evocative chronograph, marking the first time the artist takes on a photography project for a brand. Comprising of nine images in three triptychs with the themes of "Wind Carved Canyons", "Deserted Dunes" and "Starry Nights", the photographs were taken across all four deserts in North America: The Great Basin, Mojave, Sonoran and Chihuahuan deserts. Over the coming weeks and months, the photographs can be discovered during a travelling exhibition tour, beginning with FIAC in Paris before making its way to Dubai and Tokyo before the end of the year.
November 11, 2021