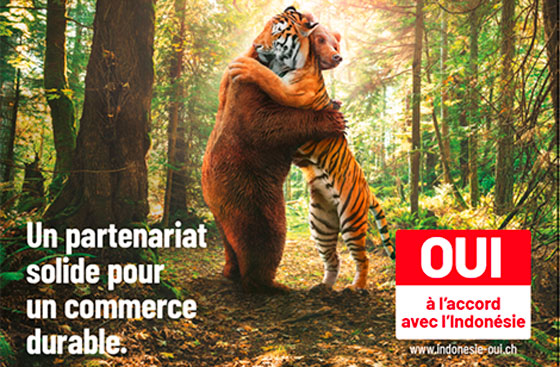 On March 7th 2021, the Swiss people will have to vote on a referendum against the ratification of the free trade agreement between EFTA (including Switzerland) and Indonesia. The FH is opposed to the referendum and supports the agreement to ensure new outlets for the Swiss watch industry.
The economic prosperity of our country depends to a very large extent on the dynamism of its export industry. As essential instruments of Swiss foreign economic policy, free trade agreements, whether concluded bilaterally or within the framework of EFTA, have for many years significantly contributed in several respects to the development of Switzerland as a business location and to its employment situation.

The scope of free trade agreements is not confined to merely eliminating customs duties. These agreements (a total of 30, covering access to 70 countries and territories) above all to define framework conditions that are favourable to trade, first of all by guaranteeing the transparency and stability of the applicable rules and, in so doing, providing greater legal security for commercial actors. The so-called broad agreements go even further, since they include provisions on the reciprocal protection of investments, the protection of intellectual property, economic cooperation and, increasingly, sustainable development. At a time when multilateralism must be completely reinvented, free trade agreements are the best tool to support Switzerland's competitiveness and commercial interests on world markets, especially since many other countries or economic blocs are largely committed to the same path.

Today, the Swiss watch industry exports about 95% of the timepieces it produces and free trade contributes to its success with international customers. Eight out of every ten watches exported today benefit from the preferential treatment guaranteed by free trade agreements. Not only do these watches pay zero or very low customs duties, making them more accessible, but they also benefit from simplified customs procedures. One aspect that is particularly important for the watch industry are the commitments regarding the protection of intellectual property (trademarks, designs, models, Swiss made, etc.), which is also important for the industry. The agreement concluded with Indonesia meets all these objectives. It will notably allow the total elimination of customs duties on imports of Swiss watch products within a maximum period of nine years.

Parliament passed the agreement with Indonesia by a large majority in December 2019. It is comprehensive in scope, as Switzerland managed to negotiate an extensive sustainable development component that includes binding commitments that Indonesia had not previously undertaken with any other trading partner. Palm oil, one of Indonesia's most important export products, is at the core of this sustainability part of the agreement, which provides for a reduction in tariffs on a given volume of Indonesian palm oil, but only for certified products and under certain conditions.

Switzerland and the Swiss watch industry need the free trade agreement with Indonesia, just as they need the existing ones with the European Union, Japan, China, the United Kingdom, Mexico or South Korea, to name but a few. This agreement represents an important opportunity for all Swiss companies to gain easier access – based on clear rules – to a market of more than 260 million inhabitants, which is ranked among the 20 largest economies in the world. It provides a legal framework along with guarantees for balanced trade, as well as strong commitments to sustainable development.

For all these reasons, the FH supports the free trade agreement between EFTA and Indonesia and opposes the referendum launched against it.
February 18, 2021